NEW DELHI, Sep. 24 (AFP) – New Delhi's beleaguered Commonwealth Games was set to welcome its first athletes Friday after receiving a much-needed boost when Team England said they would definitely be participating.
The announcement came after the Commonwealth Games Federation signalled Delhi was succeeding in fixing the problems that have brought the event to the brink of disaster.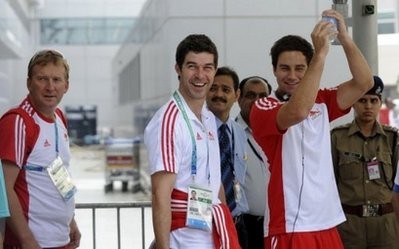 English athletes after their arrival at Indira Gandhi International Airport in New Delhi on September 24. AFP
However, the news was not all good, as individual, high-profile athletes continued to announce their withdrawals.
Indian Prime Minister Manmohan Singh held a crisis meeting with senior ministers late on Thursday and Delhi's Chief Minister Sheila Dikshit oversaw the deployment of hundreds of staff to clean the athletes' village.
"There has been progress and there is more to do," Mike Hooper, chief executive of the Commonwealth Games Federation (CGF), told AFP, adding that there had been a "significant" influx of additional resources.
"We're concentrating on fixing the problems. My attitude is that the Games are on. We are working at the highest levels of government," he said.
A source in the CGF, which went public with complaints about the "filthy" and "seriously compromised" village on Tuesday, said that the mood was more upbeat and that the risk of cancellation was now small.
CGF president Michael Fennell was expected to inspect the village on Friday, when the first athletes' teams were expected to arrive.
Organisers were given a much-needed reason to celebrate when English officials announced they would definitely be taking part in the Games.
"Commonwealth Games England (CGE) and its 17 member sports today unanimously agreed that they will go to the Delhi Games," an organisation statement said Thursday.
"(We) are now seeing the improved levels of resourcing which are required to resolve the significant operational issues, but we will continue to monitor the situation daily to ensure the village and stadia are safe and fit for purpose."
Wales said it was sending its team as planned after receiving assurances that the facilities were up to scratch, and Scotland said it had been "heartened" by Dikshit's involvement with the clean-up.
"Things are looking much better," Team Scotland's representative Jon Doig said in Delhi.
Canada, which had delayed sending its athletes, also welcomed the intervention by the Indian government.
"What you are seeing is now, for the first time, the injection or projection of significant political leadership in the organisation of the Games," said the president of Commonwealth Games Canada, Andrew Pipe.
"Frankly, this is leadership that has been lacking," Pipe said.
Several world-class athletes have already pulled out of the October 3-14 event, which has damaged India's image and its plans to use the games as a platform to promote its economic emergence.
In the latest blow to the competition, Olympic team pursuit gold medallist Geraint Thomas was one of four British cyclists to announce his withdrawal, along with Peter Kennaugh of the Isle of Man and England's Ian Stannard and Ben Swift.
Welsh rider Thomas said he was not prepared to risk his health in New Delhi, with reports of of mosquito-borne dengue, as well as issues of sanitation in the village.
"It's a massive disappointment first and foremost but with the hygiene and the risk of getting ill, it was a massive risk," he said.
A senior member of the Games organising committee issued a fulsome apology Thursday for what he said was a "collective failure" to get the Games in order.
"I genuinely feel sorry for whatever has happened and would like to apologise not only on the part of the OC (organising committee) but everybody else who is committed," committee treasurer A.K. Mattoo told the NDTV news channel.
The Delhi organisers have come under concerted attack for their lack of preparation, particularly in the village, where photos emerged of a filthy leaking toilet, a stained and dirty shower, a bed with muddy dog paw prints on it, as well as rubble and water-logging.
New Delhi had been expecting 7,000 athletes and officials for the multi-sport showpiece for Commonwealth countries, mostly nations and territories formerly in the British Empire.