SYDNEY, June 1, 2010 (AFP) - Unease over the state of star attacker Harry Kewell's fitness dominated the Australian press coverage on Tuesday in the countdown to next week's World Cup in South Africa.
Kewell has only played a few minutes this year for Turkish club Galatasaray because of a groin injury and Australia coach Pim Verbeek is nursing him through training ahead of the Socceroos' World Cup opener against Germany on June 13.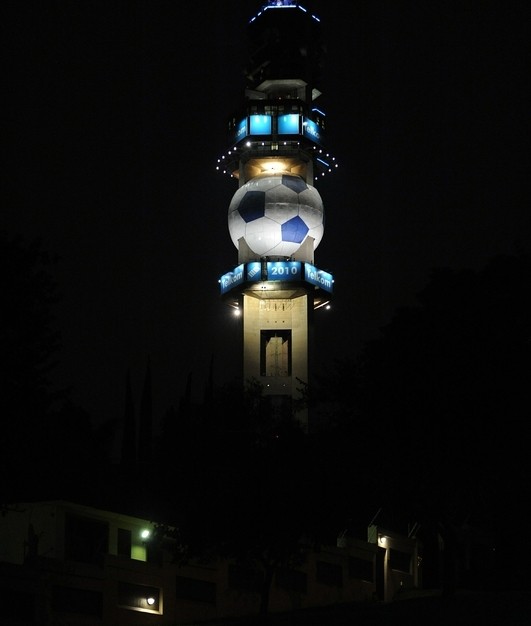 A telecommunication tower displays a football on a hill in Pretoria, South Africa, on May 31 2010. AFP PHOTO
Verbeek has also shielded the former Liverpool and Leeds United star from reporters, who are anxious to know the state of his fitness ahead of the tournament.
Australian newspapers on Tuesday speculated on what role Kewell might play for the Socceroos given his lack of match play and his unavailability for Australia's warm-up match against Denmark in Roodepoort on Tuesday.
Former national skipper Paul Wade said Verbeek should start Kewell against Germany and not use him as a super sub amid speculation that he may only get a substitutes' role against the three-time champion Germans in Durban.
"He won't be 100 percent, we know that, so let's use him early in a short burst," Wade told the Daily Telegraph.
"Let him do something special and then bring on players who might be fitter and can work hard to hold a lead or even the chance of a draw.
"I can understand why they're not risking him in the warm-up games, but at some point you've got to test it, and if he's anywhere close he has to start."
The Sydney Morning Herald said Kewell was becoming a distraction within the Australian camp.
"Here we go again. 'Harry-watch' has become a ritual over the years. Especially before major tournaments," the Herald said.
"Kewell facing a race against time to be fit to represent his country is a soap opera with a life of its own.
"What's new is that for the first time a significant number of those close to the team are wondering whether the hassle is worth it.
"Despite his diminished circumstance, Kewell remains important. But not so important that his presence becomes too big a distraction. Which is exactly what it is threatening to do."
Verbeek has to nominate his final squad of 23 players on Tuesday.