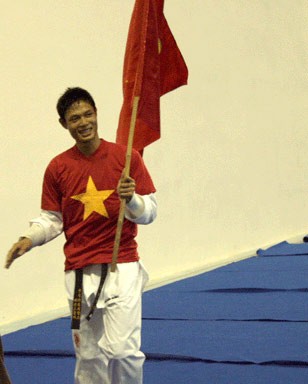 Vietnamese Taekwondo champion Nguyen Van Hung
The Sports Minister for Australia's Northern Territory, Ms. Delia Lawrie, is touring Southeast Asia together with Arafura Games director Adrian Curry to publicize the event.


She met with Vietnamese sports chief Nguyen Danh Thai in Ha Noi, and then Ho Chi Minh City authorities and sports officials to encourage Viet Nam's participation in the Games in May next year.


The Arafura Games is international sporting competition for emerging athletes in Asia-Pacific. Held every two years in Darwin, the capital of Australia's Northern Territory, the event is billed as a "meeting of neighbors." Twenty-three sports will be competed next year.
Last year, Darwin played host to 3,000 athletes representing 32 countries where Viet Nam four Vietnamese athletes earned one gold medal and three silvers Taekwondo events. Vietnamese champion Nguyen Van Hung clinched the gold for the men's over 80 kg category. Long Dien took the men's silver for 58 kg, Nguyen Thi Huyen Dieu and Nguyen Thi Ngoc Tram gained two in the women's 49 kg and under 67 kg categories respectively.
"The Arafura Games is about more than just sporting competition," said Sports Minister Lawrie, "it focuses on providing experience and professional development that will benefit competitors, coaches and officials alike."
But she added that the event is not limited to close neighbors: "Countries of the Asia Pacific region are invited to come together to compete in a friendly sporting environment, while applications from countries further afield are also welcomed," she said.
Related link