TOKYO, Japan, Sept 23, 2010 (AFP) - Top-ranked Lee Chong Wei showed the gulf in class between him and world number 13 Kenichi Tago in the Japan Open in Tokyo on Thursday.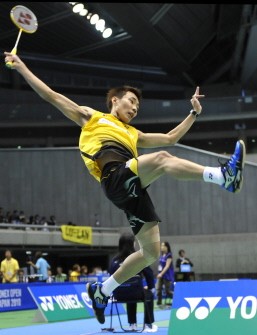 Lee Chong Wei smashes a shot against Kenichi Tago during their match at the Japan Open in Tokyo on September 23, 2010. AFP
The world number one from Malaysia, who lost 19 points in each game in the All England final to the Japanese, stormed to an easy 21-10, 21-10 victory in the men's singles second round.
"In the All England, I really wanted to win the title that I've never won before, so I was nervous. That's the reason why I lost 19 points in each game," said Lee.
"Beside, I underestimated Tago in the All England. He reached the final by beating top players. This time, I studied his play and prepared for the match."
Lee said he has not fully recovered from injury.
"I prepared for this tournament very well. I feel no pressure. I'm just enjoying playing in this tournament," said Lee, aiming to regain the title he won in 2007.
Defending champion Bao Chunlai earned a quarter-final place against Lee when the Chinese sixth seed outclassed Kazushi Yamada of Japan 21-13, 21-13.
Earlier in the day, three-time former world champion Lin Dan of China overcame a close first game before scoring a 21-17, 21-14 victory over Hu Yun of Hong Kong.
"He previously played for China and he is strong. That's why I had a tough match. You cannot beat him easily. You can never play against him as you planned," said Lin, the winner in Japan in 2005 and 2006.
The 26-year-old Lin has reduced the number of tournaments this season because of his physical fitness, winning only the Asian championships in April and the China Masters last weekend on home soil.
"But I plan to take part in more tournaments next season by regaining my best form," said Lin.
In the quarter-finals on Friday, Lin will take on Park Sung-Hwan of South Korea, who defeated Taufik Hidayat's conqueror, Sho Sasaki of Japan, 21-12, 21-15.
In the women's singles, sixth seed Pi Hongyan of France crashed to a 21-6, 21-11 defeat to 2002 world junior champion Jiang Yanjiao of China, but fourth seed Tine Baun of Denmark and seventh seed Eriko Hirose of Japan went through.
Baun, who claimed her first tour title at the 2007 Japan Open under her maiden name of Rasmussen, struggled to beat Yip Pui-yin of Hong Kong 21-16, 14-21, 21-16, while Hirose whipped Petya Nedelcheva of Bulgaria 21-19, 21-18.