BERLIN (AFP) - The tussle for the German captaincy took a new turn on Wednesday when regular skipper Michael Ballack took the chance to reassert his own credentials at the expense of the man who did the job at the World Cup in South Africa.
Philipp Lahm was given the armband for the tournament when the 33-year-old Ballack, who has captained the side since 2004, was ruled out after injuring his ankle playing for Chelsea against Portsmouth in the English FA Cup final at the end of May.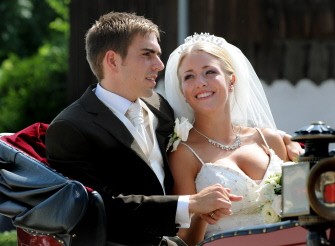 Germany's defender Philipp Lahm and his wife Claudia, former Claudia Schattenberg, drive in a carriage after their marriage in the church of Kleinhelfendorf, southern Germany, July 14, 2010. AFP
With Germany reaching the semi-finals, the 26-year-old Lahm went on record to say that he would not hand back the captaincy unless told to do so by coach Joachim Loew.
Ballack, however, who has 98 caps to his name, is not yet ready to call time on his international career and launched a broadside at Lahm while giving his first press conference at new club Bayer Leverkusen.
"I am the captain of the national team," said Ballack. "Philipp Lahm has made his claim at a moment that I feel is inopportune. I was injured and could not defend myself.
"There are hierarchies. I am going to talk to Philipp about this business."
The issue has cast a light shadow over Germany's World Cup campaign which saw them win rave reviews for their four-goal thrashings of Australia, England and Argentina.
It is also dividing the team with midfielder Bastian Schweinsteiger, a teammate of Lahm at Bayern Munich, pouring oil on the fire on Sunday by declaring that he considered Ballack to be 'THE' captain of the national team.
"For me, it is Ballack who is the captain. Philipp took on the role solely becasue Michael was injured," he told the daily Die Welt.
Germany team manager Oliver Bierhoff ticked Lahm off at the time but another ex-international Lothar Matthaus suggested during the World Cup that Germany is better off without Ballack.
"I don't mean that in a spiteful way but Ballack was arguably holding up a number of players who?ve now blossomed," said Matthaus.
Loew, who has yet to sign a new deal with the German football federation after guiding Germany to third place in South Africa, has not commented on the brouhaha.