BERLIN, June 24, 2010 (AFP) - German football legend Franz Beckenbauer on Thursday backed Germany to beat old rivals England in Sunday's Round of 16 match with a World Cup quarter-final place at stake.
"This is a classic game of football, but unfortunately it has come too early in the competition. It is worthy of a semi-final, but not a last 16 game," Beckenbauer wrote in his column for German daily Bild.
"You need to respect this team but not fear them because they were poor during their first two matches of this World Cup.
"Although they did improve against Slovenia," added Beckenbauer after England made sure of their last 16 berth with a 1-0 win over the Slovenians on Wednesday.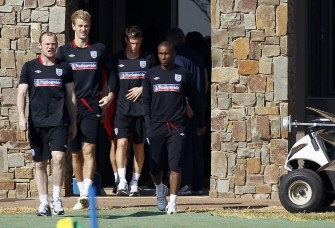 England's striker Wayne Rooney (L), goalkeeper Joe Hart, midfielder James Milner and striker Jermain Defoe (R) leave their residence before a training session at the Royal Bafokeng Sports Campus near Rustenburg on June 24, 2010. AFP
According to Beckenbauer, Germany will have an advantage over England in terms of fitness when the sides meet in Bloemfontein on Sunday.
"The English seem tired and there's a reason for this: the Premier League players compete in more matches than their colleagues from the Bundesliga, excluding the FA and League Cups," he wrote.
"That is why they often arrive jaded at a World Cup or a Euro ... while our players give the impression of being in better physical condition."
Beckenbauer captained Germany to the 1974 title and then coached the team which won Italia 1990.
He was in the Germany side which lost 4-2 to England in the 1966 World Cup final when Geoff Hurst scored his famous hat-trick and he coached the side in Turin when Germany beat England on penalties at the 1990 World Cup semi-final.
At the beginning of the tournament, Beckenbauer rekindled the rivalry between the two European giants by criticising England's style of play under coach Fabio Capello.
Meanwhile, Interior Minister Thomas de Maiziere, who is also sports minister, waded in by saying he too is confident of a win over England.
"England are overrated, I think ... I'm more optimistic about the England game than I was about the Ghana match. I was a bit worried back there," de Maiziere told Bavarian radio station Bayern2.
"I have been disappointed by England, as I have been by various other big nations. The Europeans are not as exciting as expected. The South Americans are strong."
The German press meanwhile was much relieved after a tense game against Ghana and are relishing meeting Fabio Capello's Three Lions.
Bild's headline was "Done it! But how we trembled!" and "Ozil saves Germany." ... "Now the World Cup can really begin."
It said the Ghana game was "not a match for those with shaky nerves."
Die Welt said that England striker Wayne Rooney was "finally getting his German duel."