LONDON (AFP) - German football great Franz Beckenbauer has apologised to Germany's World Cup last 16 opponents England about criticisms he voiced earlier in the World Cup blaming it on him being in a bad mood at the time.
The 64-year-old - who won the World Cup both as a player and as a coach - had accused England of returning to their old style 'kick and rush' football after their opening 1-1 draw with the United States and then the dire 0-0 draw with Algeria.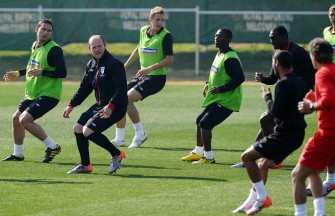 England's striker Wayne Rooney (2nd L) joins teammates as they take part in a training session at the Royal Bafokeng Sports Campus near Rustenburg on 26 June. AFP
He also claimed that they looked tired and burnt out after they edged Slovenia 1-0 in their final group game to ensure they reached the last 16.
His comments were not received warmly by the England camp, especially by their Italian coach Fabio Capello, who had been credited with restoring a bit of flair to an England side whose morale was badly damaged when they failed to qualify for Euro 2008 under Steve McLaren.
However, 'Der Kaiser' as Beckenbauer became known during his playing days as a sweeper for then West Germany - with whom he won the 1974 final and then coached them to the 1990 title - told BBC Sport he wished to retract his comments.
"I apologise, because I like England and I like English football," said Beckenbauer, who also played a major role in the successful staging of the 2006 World Cup finals in Germany.
"Maybe it was a reaction because I was disappointed (with England's performances) and maybe in a bad mood."
However, Beckenbauer like many others said he had been left disappointed by the manner in which England had performed in the group games.
"Before the World Cup I was convinced England would play a major role in the tournament and maybe win the title," said Beckenbauer.
"They have a great team and a great coach - Fabio Capello is one of the most experienced coaches - and after the first two games I was so disappointed.
"In other words, I apologise and I look forward to the game on Sunday. I think it's going to be a very interesting game."
Beckenbauer also joked that he hoped Germany beat England on penalties, just as they did in the semi-finals of the 1990 World Cup - when he was their coach - and the 1996 European Championships.
Anything Beckenbauer says from now to Sunday will fire up the England players even more.
He said: "For the fans, I hope for excitement - a draw, overtime, and then penalty kicks. And then, the Germans win. Sorry!"