ROME, Sept 1, 2010 (AFP) - AC Milan president Silvio Berlusconi, the Italy Prime Minister, has rediscovered his passion for football according to club captain Andrea Pirlo.
Speaking from Italy's training base just outside Florence ahead of the 2006 world champions' opening Euro 2012 qualifier against Estonia in Tallinn on Friday, the 31-year-old reflected on a busy past few days in the transfer market.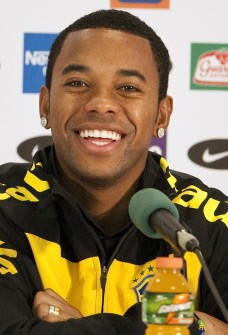 This file photo taken on June 27, 2010 shows Brazil's striker Robinho smiling during a press conference on June 27, 2010 in Johannesburg during the 2010 World Cup in South Africa. AFP
Milan secured big-money but cut-price deals to bring Zlatan Ibrahimovic (24 million euros) and Robinho (18 million euros) to the club.
And Pirlo says that's down to a new lease of life in Milan's president.
"He's been very close recently, often coming into the dressing room. Now he's given us these last two gifts, he's got his passion back," Pirlo said of Berlusconi.
"To be honest I wasn't expecting it at first but then having heard certain things I started to understand.
"This closes the gap to Inter Milan. Now we're built to win in Italy and Europe.
"With two new strikers we'll need a bit of time to find our rhythm but all four can play together, Ibra, Pato, Ronaldinho and Robinho.
"Even last year we had a centre-forward and three attackers behind him and that was our best two months of the season. Of course everyone will have to sacrifice themselves and run."
Turning his attentions to the national team, Pirlo said they have to restart from scratch following the World Cup debacle in South Africa.
"We need to start playing football, South Africa 2010 proved that you need quality to win," he said.
"Keeping the ball on the ground, interchanging, we'll also learn to do this. The problem with Italian football is that we all have less quality: players, fans, stadiums, we need to get that back."
Looking ahead to Friday's match against the team ranked 94th in the world, Pirlo insisted it wouldn't be easy.
"In Tallinn ... there will be a small pitch with many pitfalls. Last year Estonia lost only 1-0 to Brazil.
"They have a good team, it won't be a stroll in the park. A victory is a must."
As captain of his country, due to the fact he is the most capped player in the team in the injury absence of goalkeeper Gianluigi Buffon, Pirlo is not going to start pushing his weight around.
He has already said that he won't fight Sampdoria forward Antonio Cassano over what shirt to wear.
"I'll happily leave the number 10 shirt to Antonio, I'll take the number 21 and as captain it's time to take responsability."
Cassano, an often impetuous and controversial figure in Italian football, has got the backing of his team-mates, according to left-back Cristian Molinaro.
"Cassano is the driving force in the national team because he's an amazing player and person," he said.
"We're a group who want to become solid and strong in a short space of time."
Stuttgart's Molinaro is liable to get the nod at left-back and will wear the number three jersey, which brings with it a certain weight of responsability.
"I know that the shirt I could wear, the number three, is that worn for many years by Maldini, a player who has always been an idol for me," he added.
"In this position I've also always admired (Gianluca) Zambrotta who was able to perfectly adapt to a position that was not his."