The Golden Ball for the best woman football player of 2006 went to Dao Thi Mien of the Ha Tay and national teams. She is the first defender to top the poll of coaches, football officials and sport writers.
Quang Truc from Sai Gon Giai Phong newspaper caught up with our best female player.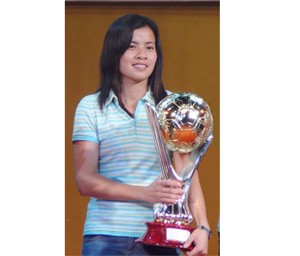 Dao Thi Mien with her first golden ball award (Photo: Hoang Uy)
Reporter: How do you feel about winning the Golden Ball?
Dao Thi Mien: I'm so happy. This noble award is the dream of every football player. The other contenders - Doan Thi Kim Chi, Bui Thi Tuyet Mai and Van Thi Thanh - played very well and deserved the award too.
Before the results came out, I hadn't even thought I would be among the top three, let alone the winner. I want to thank Sai Gon Giai Phong for organizing the award and thank the people who voted for me. I dedicate this award to my coaches and teammates, without whom I would never have won. But above all, I want to dedicate it to my grandfather.
Why is that?
I loved playing football as a child even though my parents were dead set against it because I was a girl. Only my grandfather encouraged me and believed in me.
You say that football is an all-consuming passion, your only interest. How come?
When I was a little girl, I played football with my cousins and I played it very well. From there it gradually grew into a passion and I decided to become a professional player. At present, I'm playing as a defender for Ha Tay and assisting our coach.
What are your targets now?
I will improve my game as much as possible in order to contribute to Ha Tay and the national team. First and foremost is to protect my team's status as the national champions. Then I hope my national teammates and I can win the upcoming Southeast Asian Championship.