KUALA LUMPUR (AFP) – Asian football chief Mohamed bin Hammam has declared he will challenge Sepp Blatter for the FIFA presidency in June, opening a bitter fight for the football world's top post.
Bin Hammam, the president of the Asian Football Confederation (AFC), said he decided to stand against 75-year-old Blatter, who has been the world governing body president for 13 years, after "careful study".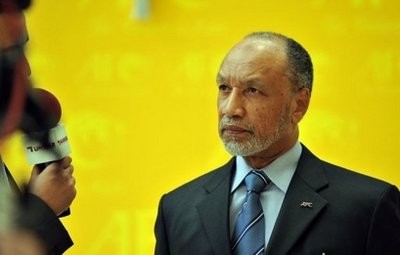 Asian Football Confederation president Mohammed bin Hammam gives an interview to a TV reporter after a press conference at the AFC house in Kuala Lumpur, on March 18. AFP
"Today after careful study, consideration... armed with my love for football I have decided to contest in the upcoming FIFA presidential elections scheduled in June 2011," he told reporters at the AFC headquarters in Kuala Lumpur, on Friday.
"The time is right to contest for the FIFA presidency. I have the will to serve people and I always said competition and change is good for any organisations," said the Asian football supremo.
Bin Hammam himself has been the AFC president since 2002 and is now in his third and final term.
When asked about his chances against Blatter, he said the time had come for a new face in FIFA.
"My chances are 50-50," the 61-year-old Qatari said.
"Blatter is an experienced person, he has made significant contribution to football worldwide but I believe there is a time limit for everything. There is now a time for a new face and a new heir," he said.
"I hope Asia will be united behind me and also I hope there will be support from other confederations," he added.
During his 20-minute speech, Bin Hammam also unveiled plans to democratise FIFA and make the governing body -- which was hit by a corruption scandal last year during bidding for the 2018 and 2022 World Cups -- more transparent.
He pledged to expand FIFA's decision-making process and introduce reforms for a "more fair distribution of revenue and increased transparency", if he won the presidency.
"I think unless one is in the top of the organisation we cannot make changes," he said.
Bin Hammam's announcement came after he repeatedly dropped hints in the past two months that he would stand against Blatter, who said Thursday that he had the energy to carry out what would possibly be his final term as president.
"I just passed on March 10 75 years. But I think I am full of energy and I have not yet finished my work to develop football and organise competition," Blatter said during a visit to Malaysia.
"I am willing to go on for the next four years. This is my wish and we will see what the congress will say."
Hoping to win a fourth term as FIFA president, Blatter completed a whirlwind tour of Asia including East Timor, Myanmar, Laos and Malaysia to gauge support from Bin Hammam's affiliates Thursday.
Bin Hammam was once a close ally of Blatter's and one of the driving forces behind his campaign to be elected in 1998.
The pair fell out two years ago and Bin Hammam's stunning success in securing the 2022 World Cup for Qatar has stimulated him to consider a challenge.