OSAKA, March 27, 2011 (AFP) - Just two months after rejoicing in a record fourth Asian Cup title, the Blue Samurai have reunited in the hope that a game of football will help give a small lift to their disaster-stricken nation.
European clubs have freed up 12 Japanese players to join Alberto Zaccheroni's 26-strong national squad who will play a J-League select team in a fund-raising charity match in Osaka on Tuesday.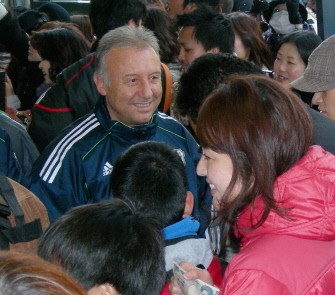 Japan's head coach Alberto Zaccheroni (C) is surrounded by Japanese football fans as he stages a fund raising campaign for victims of the tsunami and earthquake in Osaka on March 26, 2011. AFP
"I am not sure if it's right to play a match in this kind of situation," World Cup hero and CSKA Moscow midfielder Keisuke Honda said ahead of the national side's first game since beating Australia 1-0 in the Asian Cup final in Qatar.
"But I think what is important is to take action," said the 24-year-old. "We want to lend a helping hand to disaster victims".
Zaccheroni and his squad, including such domestic club stars as Gamba Osaka midfielder Yasuhito Endo, lined up on Saturday to greet about 8,000 supporters with donation boxes before an open training session.
Some 2.5 million yen (30,700 dollars) went into the coffers in one day.
"We can do nothing more than giving all we have on the pitch," said Japan captain and Wolfsburg midfielder Makoto Hasebe. "But I hope it will give disaster victims something to inspire themselves."
Zaccheroni, who came back from his home country Italy where he had stayed with his family after the March 11 disaster, looked impressed.
"I could directly feel support from everyone," said the 57-year-old, who took over the Blue Samurai from Takeshi Okada after they reached the last 16 in South Africa last year for their best World Cup ever on foreign soil.
"We want to continue working hard together," added the former AC Milan boss.
The earthquake-tsunami double disaster has left at least 27,000 dead and missing along the country's Pacific coast, more than 500 kilometres (310 miles) northeast of Osaka.
The catastrophe has also crippled a nuclear power plant, with workers scrambling to avoid a possible meltdown. It has triggered rolling power shortages and forced the shutdown the regular J-League season until April 23.
Japan's two professional baseball leagues had to push back the start of the season by three weeks to April 12 and will refrain from power-consuming night games in eastern Japan until the start of May.
But the "Gambare (Hang on), Nippon" charity match will be an exception, staged at Osaka's 50,000-seat Nagai Stadium under floodlights.
It will pit the Blue Samurai against the 20-member J-League selection coached by Dragan Stojkovic, manager of league champions Grampus Nagoya.
"Everybody has readily accepted the charity match plan. I felt we've remained as one even after the Asian Cup," Hasebe said.
The Serb's squad, called the "J-League Team As One," includes 1993 Asian Footballer of the Year Kazuyoshi Miura, still active at 44, and World Cup centre backs Yuji Nakazawa and Marcus Tulio Tanaka, both of whom missed the continental championship due to injuries.
Due to the catastrophe, Japan cancelled a friendly against Montenegro in Shizuoka, central Japan, on March 25 and proposed to switch a planned March 29 friendly against New Zealand from Tokyo to Osaka.
But the All Whites opted out on safety concerns which also forced the cancellation of last week's world figure skating championships in Tokyo, some 250 kilometres (155 miles) from the crippled nuclear plant.