None of the two Vietnamese candidates passed the first-ever FIFA examination for player agents organized in Viet Nam on March 30, 2006.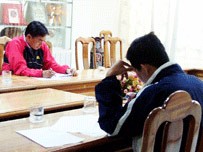 The two candidates take the exam in Ha Noi on March 30
Former football player Tran Tien Dai, 40, and auditor Nguyen Hoang Nguyen, 36, both from Ho Chi Minh City, took the exam at the Viet Nam Football Federation (VFF) Headquarters in Ha Noi.
With FIFA key, the federation announced the results immediately. Dai gave eight right answers to 20 questions, scoring 17 out of 40 points, while Nguyen made 12 right answers to score 25 points. Both failed to get a FIFA license to become an agent.
The exam contained 20 questions, with 15 chosen by FIFA on international regulations and the remaining by the VFF on national regulations.
After leaving the examination room, Dai said, "We had carefully read relevant documents on the FIFA and VFF websites but the questions were hard." 
Both men said they had gained experience from the examination and would later think about taking the second examination in September this year.