Vietnam, in their first-time participation in the 2009 Budweiser Cup international finals played at Old Trafford, Manchester United in England, came second after losing to Argentina on penalties and a 1-1 draw in regular time.
Amateur football players from Abu Dhabi, Argentina, Bahrain, Belgium, Chile, Dubai, India, Ireland, Malta, Qatar, Sweden and Vietnam competed in the Budweiser Cup international finals (six a side) on May 25, just one day.
Vietnam Television on May 26 broadcast the news, showing Manchester United legend Sir Bobby Charlton present prizes to the Vietnamese amateur players at Old Trafford.
Argentina displayed their talent throughout the one-day tournament, while Vietnam surprised many teams with their unified play and fluid ball movement, which helped them book a berth in the final, a press note said.
Vietnam struck first in the championship match, but Argentina responded with an equalizer. After winning 1-0 on penalties, Argentina piled on their goalkeeper in celebration.
The Vietnam squad was team Horison from Hanoi, who won the Budweiser 6v6 National Championships on April 30 to represent Vietnam in the global finals.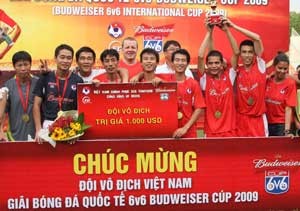 Horizon win the Budweiser Cup Vietnam on April 30 to gain the country's berth to the World Finals (Photo: T.T.)
Sixty-four teams competed in the national tournament. After Horison gained the country's berth in the world finals, Walter Blocker, CEO of the Gannon Group, authorized distributor of Budweiser in Vietnam, said: "Now that they've made it to the Theatre of Dreams, we hope they'll take it one step further and bring home the Cup."
"This is an unprecedented occasion in Vietnam and a moment these men will remember for the rest of their lives," he added that time.