BLOEMFONTEIN, South Africa (AFP) - Cameroon coach Paul Le Guen said Sunday he is eyeing the World Cup quarter-finals as he bids to match the famous achievements of the "Indomitable Lions" 20 years ago.
Cameroon, who face Japan in Bloemfontein on Monday, became the first African nation to reach the last eight at the 1990 World Cup in Italy, inspired by a 38-year-old Roger Milla, before eventually falling to England.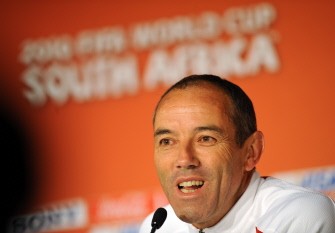 Cameroon's coach Paul Le Guen speaks during a press conference at Free State stadium in Bloemfontein on June 13, 2010
"My ambition is to go as far as possible and perhaps equal the glorious 1990 tournament which everybody talks about. We definitely want to be up to that level," Le Guen told reporters at the Free State stadium.
"There is a huge expectation in Cameroon and they want a lot from us and we have certainly done everything to make sure that our preparation is well under way and I think we're now ready to showcase all our talents."
The former Lyon, Rangers and PSG coach admitted the Netherlands were favourites to win Group E, which also includes Denmark, but said Cameroon could finish second and "why not first?"
Cameroon hope star striker Samuel Eto'o can inspire the nation in the same way as Milla did two decades ago.
The Inter Milan player, who rivals Ivory Coast's Didier Drogba as the best striker from Africa, has enjoyed a stellar two seasons, winning the treble of European Cup, league and national cup for Inter a year after managing the feat for Barcelona.
But the French coach cautioned against focusing too much on one player.
"Eto'o is our captain. He's an essential player, the icon of Cameroon football. But don't forget there's also Geremi and Rigobert Song," he said, referring to the veteran players.
Eto'o had earlier hinted he might pull out of the World Cup after criticism from Milla about his contribution to the national side but did not do so and Le Guen brushed aside suggestions that the spat would unsettle the player.
"He's a champion. He knows how to concentrate now on what's important for himself and the team," Le Guen added.
The coach said the atmosphere in the camp was good, adding: "We are in pre-competition. The players are calm but they are conscious of their responsibilities."
No African team boasts more experience than Cameroon, whose appearance in South Africa is a record sixth at a World Cup for an African nation and who will revel in "home" support.
They have struggled in their warm-up matches but will face a Japan side in a trough after a string of poor performances in which the Blue Samurai have netted only once in five games.