BEIJING, March 25, 2011 (AFP) - China's celebrated Shaolin Temple is training young kungfu disciples to play football in the far-off hope of reversing the flagging fortunes of the national team, state media reported.
In a case of life imitates art the initiative will likely draw comparisons with hit 2001 Hong Kong comedy "Shaolin Soccer" about a group of washed-up monks from the temple who apply their superhuman moves on the soccer pitch.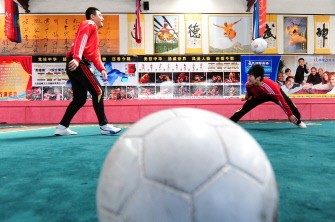 AFP file - This April 2, 2010 photo shows martial arts students at a Kung fu school in the northern suburbs of Beijing practicing their technique with a soccer ball
The temple, in central China's Henan province, which is famed for the acrobatic exploits of its warrior monks, opened a soccer training centre in October that has more than 40 martial arts students learning the "beautiful game," the official Xinhua news agency said late Thursday.
Shi Yanlu, head coach at the training base, said the discipline and ethos of kungfu can translate into effective football.
"Chinese football is in the doldrums, and when some elements of Shaolin kungfu, particularly its spirit, are integrated into soccer, we hope it will help improve the training level of football," he said in the report.
The legwork and physical coordination of kungfu could also help future Chinese footballers, he added.
China's national football team is a laughing-stock at home and a source of anguish for fans frustrated by the inability of the world's most populous country to succeed in the world's most popular sport.
China failed to qualify for last year's World Cup, has performed poorly in the Olympic Games and recently failed to reach the Asian Cup's knockout stages.
China's pro league also is reeling from a match-fixing, gambling and graft scandal that has resulted in the arrests of two former national football association heads and a number of lower-level officials.
The young recruits at the temple's training centre -- all around 10 years old -- are being coached by Alphonse Tchami, a retired Cameroonian national footballer, the report said.
The temple plans to attract more recruits among the 2,000 disciples who train at Shaolin, it added.