More than 3,300 children aged under 15 are taking part in the second Football for All in Vietnam (FFAV) Cup, which kicked off in the central province of Thua Thien-Hue on June 8.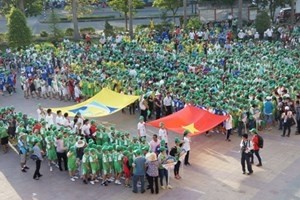 The opening ceremony of the tournament (Source: VNA)
The grassroots football tournament, the largest of its kind in Vietnam, is organised by the Norwegian Football Federation (NFF) and Thua Thien-Hue province.
The event has attracted the participation of 341 teams from the province, nearby Da Nang city and Laos, together with 1,000 coaches, referees, life skills trainers and volunteers.
Matches are being held from June 8 to 11. Life skill activities and cultural exchange events are scheduled to take place along with the matches.
Pham Van Hung, head of the FFAV Cup organising board, said that under the support of the NFF-funded "Football for All in Vietnam" model, 157 football clubs have been established over the past 10 years, offering opportunities for more than 16,000 children to play, especially those with disabilities.