NEW YORK, Sept 11, 2010 (AFP) - Kim Clijsters intends to play on at least until the 2010 London Olympics, although she admits that plan could change depending on injuries and how daughter Jada grows up.
The popular 27-year-old Belgian won her third US Open title on Saturday night with one of the finest performances of her career, destroying Russia's Vera Zvonareva 6-2, 6-1 in just 59 minutes.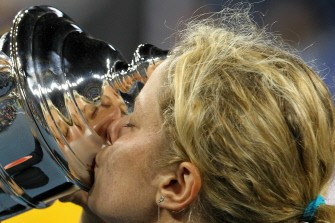 Kim Clijsters kisses with her US Open trophy on Sep. 11. AFP
It capped a wonderful 13 months back in the sport for Clijsters, who retired in May of 2007 to start a family and only returned to action a month before last year's US Open, which she won as a wildcard.
Her stunning form against Zvonareva and her rise to third in the world rankings shows that she has the ability to add to her Grand Slam haul, which currently stands at three -- all won in New York.
But with a husband and daughter to consider, life for Clijsters is more complex than for most of her rivals.
"I would like to keep going until the Olympics, but then again you never know what can happen," she said.
"You know injuries -- my main goal is to try and just stay injury-free.
"If I can do that and if I can practice hard and work hard, the Grand Slams will always be my focus.
"Now that I am playing well, obviously I am not just going to give it up. I just want to keep it up.
"As long as it's worth balancing and if I'm able to balance it with the family.
"Jada is not obligated to go to school yet, so obviously it becomes a totally different story once it becomes mandatory."
Clijsters' win on Saturday was her third in a row when reaching a Grand Slam final, but prior to that she had the heartbreak of finishing runner-up at the Australian Open (2004) and at the French Open (2003 and 2001) while her best at Wimbledon has been two semi-final appearances (2006 and 2003).
She feels that she has the ability to win at another of the Grand Slam venues if she can stay healthy.
"I think the one where I've felt I can do better than I have is obviously at the Australian Open. Similar surface," she said.
"But also you have the two European Grand Slams.
"Wimbledon is the one which I am close to because I have the connection with my dad there because he enjoyed it there.
"The French Open feels like playing in Belgium because we have so many Belgian people supporting us.
"I think that's something I want to use when I go back there next year."
However, sealing a place in history as one of the tennis greats, she says, is not something she especially aspires to.
"Maybe when I am older and retired, I'm sure it will be nice," she said.
"But it's not something that I'm trying to achieve once I'm out on the court. I don't think about that."
Clijsters said that she would head home for some rest and recuperation in Belgium and that her next tournament would be in Beijing followed by the WTA Tour Championships in Doha in November, a tournament she previously won in 2002 and 2003.