Fireworks and performances using Hi-Tech Laser Lights marked the end of the 27th SEA Games at the Wunna Theidei Sports Stadium in Myanmar on December 22, after 20 days of athletic events with participation of 11 countries from Asia.
Closing ceremony of the 27th SEA Games (Photo:SGGP)
In this year's SEA Games, Vietnam won a total of 245 medals, including 73 gold, 86 silver and 86 bronze medals, ranking at third position in the medals tally.
Martial artists contributed a total of 42 gold medals, with wrestling bringing in ten gold medals, Taekwondo five gold medals, and Vovinam four gold medals.
In the swimming category, 17-year-old athlete Nguyen Thi Anh Vien won three gold medals, two silver medals and a bronze medal. Moreover, Anh Vien beat two records in this category at this year's SEA Games.
In the shooting category, shooter Hoang Xuan Vinh won three gold medals. In Taekwondo, Muay brought in a total of seven gold medals for Vietnam, and 'Queen of Speed' Vu Thi Huong won a gold in the women's 100 meter and 200 meters.
In the billiard event, the oldest athlete of Vietnam, Dang Dinh Tien, won a gold medal for Vietnam.
On the other hand, Vietnam was unsuccessful in the men's and women's football and in badminton at this year's SEA Games.
The closing ceremony of the 27th SEA games finished successfully with the flag being passed from Myanmar to the next host country Singapore, who will host the 28th SEA Games in 2015.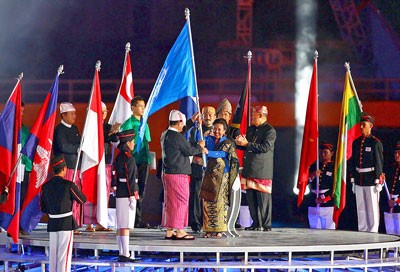 Myanmar transfers SEA Games flag to next host country Singapore (Photo:SGGP)