Frank Lampard has revealed that a brick was thrown at the Chelsea team coach as it arrived at Upton Park for Wednesday's game against West Ham.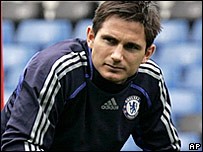 Lampard left West Ham for Chelsea in 2001
The Blues midfielder said: "The window got shattered. It made a huge bang. But that's football - it happens because there are emotions.
"There isn't too much point on dwelling on it as long as no-one gets hurt."
Emotions ran high as Lampard and team-mate Joe Cole returned to their relegation-threatened former club.
A Chelsea spokesman also played down the incident.
"It was a rock of some sort and it cracked a window of the coach. But none of the players were injured and none of them were sat by the window that was hit."
Chelsea won the match 4-1, thanks to a brace by Shaun Wright-Phillips and further goals from Salomon Kalou and Didier Drogba.
Lampard was booed by the home fans throughout.
He said: "It inspires me. It doesn't bother me, I enjoy it. It was a bit of banter and there are no hard feelings."