Somewhat unsurprisingly, the latest edition of the FIFA/Coca-Cola World Ranking shows that world champions Italy are back on top, with Luca Toni's brace against Scotland in the UEFA EURO 2008 qualifiers helping to bring Argentina's brief, one-month reign to an abrupt halt.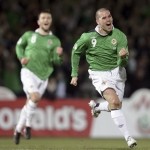 Northern Ireland's David Healy celebrates scoring in his side's win over Sweden, a result which has helped them climb the FIFA/Coca-Cola World Ranking ladder.
The Argentinians, who have not played since the last edition of the ranking, have fallen away slightly due to the devaluation of results from previous years, as have Brazil despite recording two victories in friendly matches.

There is better news, however, for the Netherlands (sixth, up one), Portugal (seventh, up one) and Spain (ninth, up one) who all move up one place in the top ten, but England (eighth, down two) and the Czech Republic (tenth, down one) slip back after a draw in Israel and defeat to Germany respectively.

Impressive performances in their EURO 2008 qualifiers result in climbs for Turkey (17th, up ten), the Republic of Ireland (31st, up 20), Northern Ireland (33rd, up 14) and Bosnia-Herzegovina (47th, up 11).

Thanks to their stunning victory over Sweden, the Northern Irish have equalled their best-ever world ranking performance, a height last achieved in May 1994.

Success in qualifiers for the CAF Africa Cup of Nations 2008 has also brought significant gains for three major African teams - Cameroon (13th, up five), Nigeria (27th, up nine) and Guinea (50th, up 12).
Further down the ranking, nine other teams also jump ten or more places, with Liechtenstein (131st, up 31) making the biggest move thanks to their triumph over Latvia, which was only Liechtenstein's fourth ever victory in competitive football.
- The next FIFA/Coca-Cola World Ranking will be published on 16 May 2007.

Rank
Team
Pts:
Apr 07
+/-Rank
Mar 07
+/-Pts: Mar 07
1
Italy
1604
1     
12
2
Argentina
1594
-1     
-22
3
Brazil
1520
0     
-37
4
France
1496
0     
-19
5
Germany
1393
0     
3
6
Netherlands
1302
1     
-11
7
Portugal
1292
1     
4
8
England
1278
-2     
-61
9
Spain
1237
1     
76
10
Czech Republic
1169
-1     
-26
11
Ukraine
1021
0     
-16
12
Croatia
1011
0     
29
13
Cameroon
968
5     
75
14
Romania
929
0     
10
15
Greece
905
-2     
-56
16
Russia
901
7     
47
17
Turkey
892
10     
77
18
Mexico
888
3     
15
19
Scotland
885
-3     
-26
20
Switzerland
877
-3     
-29
Rank
Team
Pts:
Apr 07
+/-Rank
Mar 07
+/-Pts: Mar 07
21
Poland
870
3     
20
22
Denmark
863
0     
1
23
Uruguay
862
3     
21
24
Sweden
857
-9     
-57
25
Côte d'Ivoire
847
-5     
-28
26
Colombia
825
5     
81
27
Nigeria
824
9     
130
28
Ghana
813
-9     
-68
29
USA
782
1     
37
30
Ecuador
780
-6     
-70
31
Republic of Ireland
766
20     
189
32
Serbia
757
-4     
-11
33
Israel
742
5     
53
33
Northern Ireland
742
14     
127
35
Paraguay
711
-6     
-37
36
Slovakia
699
1     
6
37
Chile
696
-5     
-12
38
Bulgaria
695
1     
8
39
Egypt
689
2     
44
40
Mali
686
-5     
-10
Rank
Team
Pts:
Apr 07
+/-Rank
Mar 07
+/-Pts: Mar 07
40
Senegal
686
5     
54
42
Iran
673
-8     
-32
43
Australia
668
-3     
11
44
Tunisia
655
2     
38
45
Finland
649
-12   
-58
46
Japan
634
-4     
-5
47
Bosnia-Herzegovina
628
11     
118
48
Morocco
624
-4     
-9
49
Norway
616
-6     
-21
50
Guinea
589
12     
94
51
Korea Republic
585
-3     
-24
52
Costa Rica
570
-2     
-9
52
Honduras
570
0     
8
54
FYR Macedonia
551
-5     
-34
55
Burkina Faso
549
1     
18
56
Panama
528
-2     
-29
57
Angola
520
0     
8
58
Hungary
518
6     
44
59
Belgium
512
-4     
-34
60
Uzbekistan
511
-7     
-47
Rank
Team
Pts:
Apr 07
+/-Rank
Mar 07
+/-Pts: Mar 07
61
South Africa
498
-1     
-1
62
Saudi Arabia
477
2     
3
63
Belarus
475
3     
9
64
Algeria
471
14     
56
65
Cuba
468
-6     
-34
66
Trinidad and Tobago
465
2     
10
66
Togo
465
5     
20
68
Jamaica
459
-7     
-39
69
Zambia
456
-2     
-4
70
Peru
448
0     
-3
71
Venezuela
447
3     
17
72
Oman
432
1     
-1
72
China PR
432
3     
6
74
Wales
423
3     
4
75
Austria
422
-12   
-66
76
Slovenia
419
-4     
-19
77
Albania
406
11     
45
78
Iraq
402
4     
9
79
Congo
396
14     
51
80
Cyprus
395
-12   
-60
Rank
Team
Pts:
Apr 07
+/-Rank
Mar 07
+/-Pts: Mar 07
80
Jordan
395
1     
-3
82
Zimbabwe
389
9     
38
83
Qatar
387
-3     
-16
84
Congo DR
385
-1     
4
85
Georgia
374
0     
0
86
Haiti
373
2     
12
87
Equatorial Guinea
365
20     
101
88
Cape Verde Islands
357
-9     
-56
89
Lithuania
356
-13   
-69
90
Guatemala
351
0     
-9
91
United Arab Emirates
348
1     
-1
92
Moldova
345
2     
3
93
Libya
343
4     
23
94
Canada
342
9     
57
95
Ethiopia
340
-8     
-22
96
Kuwait
338
-12   
-37
97
Iceland
332
-11   
-35
97
Bolivia
332
4     
32
99
Guyana
328
-4     
0
100
Bahrain
317
-4     
-8
Rank
Team
Pts:
Apr 07
+/-Rank
Mar 07
+/-Pts: Mar 07
101
Botswana
314
4     
37
102
St. Vincent and the Grenadines
313
-2     
5
103
Azerbaijan
298
20     
97
104
Latvia
297
-6     
-17
105
Gabon
294
-7     
-20
106
Uganda
291
-4     
-5
107
Malawi
289
-3     
7
107
Benin
289
11     
74
109
Hong Kong
256
-1     
-4
110
Estonia
247
-4     
-19
110
Malta
247
1     
-2
110
Syria
247
2     
2
113
Barbados
245
-4     
-7
114
Sudan
240
1     
11
115
Suriname
236
-2     
2
116
Tanzania
235
-6     
-15
116
Kazakhstan
235
27     
91
118
Liberia
224
-4     
-6
119
Thailand
218
1     
9
120
Burundi
217
-3     
-1
Rank
Team
Pts:
Apr 07
+/-Rank
Mar 07
+/-Pts: Mar 07
121
Rwanda
212
0     
7
122
Kenya
204
6     
18
123
Bermuda
199
-7     
-22
124
Singapore
193
-1     
-8
125
Antigua and Barbuda
192
5     
10
126
Mozambique
188
5     
14
127
Armenia
184
-8     
-26
128
Namibia
175
-5     
-26
129
Mauritania
174
-7     
-28
130
Lebanon
171
2     
-2
131
Liechtenstein
168
31     
84
132
New Zealand
166
-3     
-17
133
Gambia
162
1     
-7
134
Chad
159
1     
2
135
Yemen
158
2     
2
136
Seychelles
157
-4     
-16
137
St. Kitts and Nevis
153
4     
4
138
Palestine
150
-12   
-44
139
Dominican Republic
149
-4     
-8
140
Vietnam
148
-1     
-5
Rank
Team
Pts:
Apr 07
+/-Rank
Mar 07
+/-Pts: Mar 07
140
Eritrea
148
2    
2
142
Korea DPR
144
-2     
-7
143
El Salvador
135
-5     
-20
144
Niger
126
4     
9
145
Tajikistan
122
-18   
-66
145
Mauritius
122
-1     
-10
147
Lesotho
120
19     
49
148
Indonesia
118
-2     
-2
149
Bahamas
111
1     
-2
150
Swaziland
110
-1     
-5
151
Kyrgyzstan
108
-6     
-23
152
Fiji
107
1     
0
153
Sierra Leone
100
-1     
-8
154
Myanmar
98
-3     
-14
154
Malaysia
98
0     
2
154
Nicaragua
98
2     
5
154
Solomon Islands
98
9     
17
158
Grenada
95
2     
8
159
Maldives
89
-1     
1
160
Sri Lanka
85
-13   
-34
Rank
Team
Pts:
Apr 07
+/-Rank
Mar 07
+/-Pts: Mar 07
161
Andorra
84
2     
3
162
Vanuatu
82
5     
12
163
Turkmenistan
76
-5     
-12
164
St. Lucia
72
-7     
-18
165
Laos
70
-4     
-16
165
India
70
0     
-6
167
Chinese Taipei
67
1     
3
168
Turks and Caicos Islands
64
0     
0
169
Philippines
58
10     
15
170
Netherlands Antilles
55
2     
-7
170
Tahiti
55
3     
0
170
Cambodia
55
6     
6
173
Brunei Darussalam
51
1     
-2
173
New Caledonia
51
2     
0
175
Papua New Guinea
47
2     
0
176
Bangladesh
45
-21   
-50
177
Luxembourg
38
1     
-7
178
British Virgin Islands
33
6     
6
179
Faroe Islands
32
3     
0
180
Central African Republic
30
3     
0
Rank
Team
Pts:
Apr 07
+/-Rank
Mar 07
+/-Pts: Mar 07
181
Dominica
28
0     
-14
182
Mongolia
27
2     
0
182
Madagascar
27
2     
0
184
Pakistan
26
-14   
-37
184
Comoros
26
3     
0
186
Nepal
24
-16   
-39
187
Samoa
22
1     
0
188
Tonga
21
2     
0
189
Cayman Islands
20
2     
0
190
Afghanistan
18
-11   
-25
190
Macau
18
-2     
-4
190
Guinea-Bissau
18
3     
0
193
Bhutan
14
-1     
-5
194
Somalia
13
0     
0
195
Puerto Rico
10
0     
0
196
San Marino
8
0     
-1
197
Anguilla
4
0     
-2
198
Cook Islands
3
0     
0
199
Montserrat
0
0     
0
199
Guam
0
0     
0
Rank
Team
Pts:
Apr 07
+/-Rank
Mar 07
+/-Pts: Mar 07
199
American Samoa
0
0     
0
199
Timor-Leste
0
0     
0
199
Belize
0
0     
0
199
Djibouti
0
0     
0
199
São Tomé e Príncipe
0
0     
0
199
Aruba
0
0     
0
199
US Virgin Islands
0
0     
0