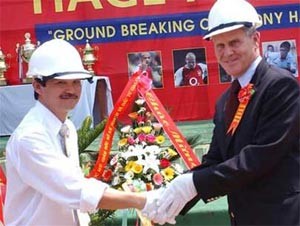 Chairman Doan Nguyen Duc (left) shakes hand with Arsenal CEO Keith Edelmam at the groundbreaking ceremony
Construction of the JMG Arsenal - Hoang Anh Gia Lai Football Academy started today at the Hoang Anh Gia Lai (HAGL) team's Ham Rong Sport Center in the central highland province of Gia Lai.
Doan Nguyen Duc, Chairman of the HAGL, and Tran Quoc Tuan, General Secretary of the Viet Nam Football Federation attended the groundbreaking ceremony as did representatives of the renowned UK-based Arsenal football team including CEO Keith Edelmam, Commercial Director Adrian Ford, and Thailand's JMG Academy Director Robert Procureur.
The academy will be built on a 5-hectare site with a total cost of US$4 million. It will include two training pitches, a studying area, living quarters for specialists, an onsite hospital, entertainment rooms and a campus for 40 students.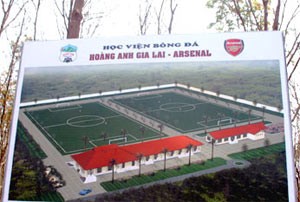 Graphic view of the JMG Arsenal - Hoang Anh Gia Lai Football Academy
According to Mr. Edelmam, the academy will provide professional football players not only for Vietnam, but the world as well. Children beginning their studies under the age of 12 years old will spend seven years training at the institute.  
At the outset, 20 students will be trained at the academy, including 14 locals, four from the Ivory Coast and two from Laos. As planned, Arsenal will send four officials to seek talented teenaged players nationwide in April of this year. They will also send specialists to train the students. The first class is expected to begin in December 2007.