ROME, Feb 17, 2011 (AFP) - Roma coach Claudio Ranieri insisted his team were not in crisis despite losing for the third game in a row in the 3-2 Champions League defeat at home to Shakhtar Donetsk here.
The Italians were made to pay by Shakhtar's speedy Brazilian forwards who combined for three goals and ensured the Ukrainians have a handy lead to take back home in three weeks time.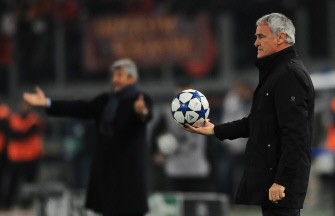 AS Roma coach Claudio Ranieri (R) holds a ball during his team's Champions League match against Shakhtar at Rome's Olympic stadium, on February 16, 2011. FC Shakhtar won 3-2. AFP
But following on from league defeats to their title rivals Inter Milan and Napoli that virtually ruled them out of the scudetto race, this defeat leaves Roma's season hanging by a thread.
But Ranieri, who vowed not to resign, remained defiant.
"Do you see a team in crisis? I don't see a team in crisis, I see a team that is playing, fighting, that created many chances," he said.
"We played very well and I have nothing to reproach the players for despite losing.
"The lads pushed hard, in the first half after we scored we should have been more careful but we conceded after 45 seconds.
"That's easy to say but it's different on the pitch. There was a double deflection on their first goal.
"Maybe we needed to be more clinical but Shakhtar knew how fast they were, the three forwards: Jadson, William and Douglas Costa were very quick and have a lot of quality, we should have closed them down better.
"But there are games where things don't go well. We could've equalised at the end with our captain (Francesco Totti).
"But patience, I can't complain with how we played or how much we gave.
"You can't just look at the result when you evaluate the game, you also have to look at the other team.
"They topped their group and they beat Arsenal, this is a great team with great players."
However, Ranieri did admit that his team is having problems in defence having conceded 10 goals in their last three matches.
"When I came here last season I said we had to improve our defence and we finished the season with one of the best defences in the league," he said.
"But this season we have lost some of that solidity so those criticisms (against the team's defence) are justified."
Roma were jeered heavily at the end of the game and even when the players went over to their fans to thank them they were still whistled.
Shahktar's Romanian coach Mircea Lucescu said he couldn't understand the fans' behaviour.
"It's an excellent result, we deserved it. We prepared very well and made the most of the anxiety that has been created around Roma's players," he said.
"The fans were angry at the end with all these jeers but the players gave their all on the pitch.
"They were influenced by who their team was playing but we're a good team, we won two groups, we beat Arsenal who just beat Barcelona.
"The players and coach knew they were playing against a good team even if the fans didn't.
"They played well but we were well organised, we countered with players who are very fast, especially William and Douglas and the result in the first half (1-3) was not a surprise.
"In the second half we lacked a bit of physical conditioning but Roma played very well."
However, despite the lead Lucescu warned his team against thinking it was over.
"It will be a very difficult game in Donestsk. We will have the fans behind us and the conditions to have a great result but we could lose.
"I don't want us to think about the win in this game in Rome, we must know that the qualification will be decided in Dontesk.
"We can't play to try to hold onto what we've got, we're an attacking team with great technical quality."