A technical delegates' meeting and draw for team sports at the fifth Asian Beach Games (ABG5) took place in central Da Nang city on September 5.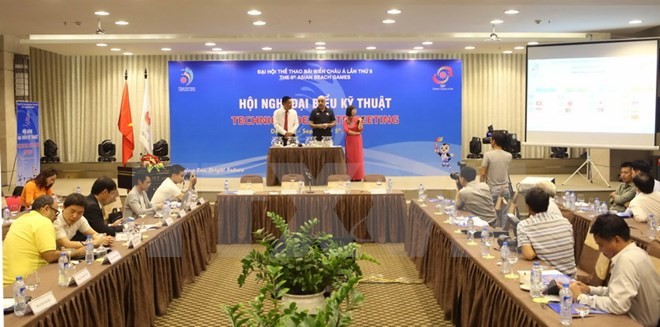 The draw for team sports at the ABG5 takes place after the technical delegates' meeting (Photo: VNA)
At the meeting, participants were informed about the Olympic Council of Asia and organisers' regulations pertaining to technical delegates, supervisors and referees.
The technical sub-committee provided an overview of professional work relating to sports events, medals and competition time and venues. Meanwhile, the sub-committee on traffic, logistics and public services reported on the accommodation and transport means for delegations during the Games.
Following the meeting, the draw for team sports such as handball, Kabaddi, beach sepak takraw and beach football was made.
To better serve the biennial Games, Da Nang has launched a hotline 0511 1022 through which ABG5-related information will be provided in Vietnamese and English. Foreigners can also phone this number to get advice about their stay in the city.
The ABG5 will be held from September 24 to October 3 on local beaches, featuring 14 sports with 172 events. It will attract 2,620 athletes from 45 countries and territories.
Vietnam will compete at almost all events and target to be among in the top positions in the medal standings. It ranked fifth at the ABG4 in Phuket, Thailand, in 2014.