RUSTENBURG, South Africa (AFP) - England headed into their World Cup opener against the United States on Saturday with head coach Fabio Capello urging them to embrace the dream of ending the tournament in glory.
The Italian's pedigree as a serial winner in club football is testimony to his ability to get the best out of players under intense pressure.
By his own admission though, there is no pressure quite like that generated by carrying the hopes of an entire nation into a World Cup.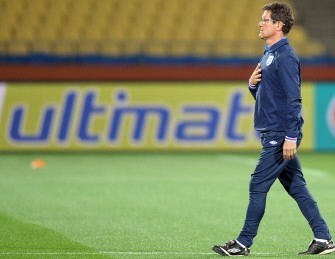 England's coach Fabio Capello arrives for a team training session in Rustenburg on June 11, 2010. AFP PHOTO
I have to live with this pressure," he said. "It is a tough job—behind me there is a whole country. But it is fantastic, it is exciting."
Having inherited England in the aftermath of their confidence-shredding failure to reach the finals of Euro 2008, Capello believes he has rebuilt the squad's belief and organisation to a point where they are entitled to entertain aspirations to ending the nation's 44-year wait to win an international tournament.
Asked if winning the World Cup would surpass all his club triumphs with AC Milan, Roma, Real Madrid and Juventus, Capello replied: "Yes. It?s a dream, no? But it was a dream for me to be England manager. I hope the next dream comes off, too. Why not?"
"I?m focused always to win, always to look ahead. In my career as a manager, I?ve built teams, worked with teams, worked with players, and always I?ve been focused to win. That?s all that matters to me: to win and get to the final. In my mind, we play to win. That?s all. I exist to win."
If England are to finally live up to all the hype that has always surrounded the likes Steven Gerrard, Frank Lampard and, more recently, Wayne Rooney, Capello knows that his big players must step up to the mark.
"I have always said that a manager is important, he has his worth," Capello added. But without good players you cannot win. Either you have a band or you have an orchestra."
Capello knows too that England must keep all their key men on the pitch, given the damage that red cards have done to the cause in past campaigns, most recently when Rooney was sent off in the 2006 quarter-final defeat by Portugal.
Concern over the issue prompted Capello to have a quiet chat with the Manchester United striker this week, but the coach insists he is not too worried about Rooney's capacity to maintain his discipline in the face of provocation.
"He's spontaneous, not uneducated," Capello said. "He's instinctive and when he goes out on to the pitch he goes out to win. He's someone who gets angry when he's treated to something unfair.
"But he'll be fine for the World Cup, just as he was for the entire qualifying period."
He added: "I hope it will be the same Rooney in the World Cup. I spoke with him. He is a fantastic player because he wants to win and the hunger in him is really, really strong. But in this World Cup we have to be careful and respect the referees."
Capello was anticipating a tough encounter with a resilient, well-organised United States side, but expressed confidence they were ready for the test, having adjusted to the 1500m altitude at which the match will be played.
"My team, I think, is okay," he said. "We arrived here at a good moment, we have trained really well.
"The players will be really focused, that's really important here. USA are really dangerous at set-pieces and corners so we have to be compact.
The Italian decided on his starting line-up earlier this week but was not due to inform his players of his decision until two hours before the game, an approach he feels keeps everyone on their toes and focused on playing.
The only thing Capello would confirm was that Gareth Barry, who has only been training for three days following his recovery from an ankle ligament injury, would start on the bench.
That was expected to mean Joe Cole coming into the side with Steven Gerrard and Frank Lampard sharing defensive responsibilities in the centre of midfield.