WOLVERHAMPTON, United Kingdom, Feb 6, 2011 (AFP) - Sir Alex Ferguson believes next weekend's high-octane derby will give Manchester United the perfect incentive to bounce back from losing their 29-match unbeaten run.
United slumped to a shock 2-1 defeat at rock-bottom Wolves on Saturday as their lead at the top of the Premier League was reduced to four points over Arsenal.
And despite the midweek international break, which Ferguson believes is ill-timed, the Scot insists Saturday's game against Manchester City at Old Trafford could not have come at a better time.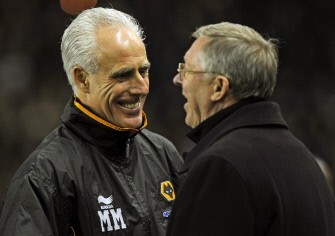 Manchester United's manager Sir Alex Ferguson (R) talks to Wolverhampton Wanderers' manager Mick McCarthy (L) before the match on February 5, 2011. AFP
"It's a terrific game to try to recover from a defeat. It's a massive game. It's something to look forward to," said the United boss.
"Unfortunately, we have internationals in midweek. To my mind that is crazy, but we have to get on with it.
"We have plenty of players who are not involved in international games and they will all play next week. We have to give consideration to the ones who are travelling, have to play, and then come back for the City game on Saturday lunchtime."
Ferguson admitted he was upset at seeing the chance of going through the Premier League season unbeaten shattered by lowly Wolves at Molineux.
"We're disappointed, obviously. It has been a long run for us and the players have done us all proud, but today in the second-half, we didn't really get going."
Ferguson believes his side wasted too many opportunities in the first half and then failed to get to grips with an increasingly "difficult" pitch, barely forcing Wolves goalkeeper Wayne Hennessey into a second-half save.
Adding to Ferguson's misery was the sight of key defender Rio Ferdinand being forced out of the game after injuring his calf in the warm-up.
He will miss England's midweek friendly against Denmark and could also struggle to be fit in time when United tackle Marseille in the first leg of the Champions League last 16 tie on February 23.
"Rio has done his calf in the warm-up unfortunately, so he'll be out for a couple of weeks," said Ferguson.
"It was late to have to make the change. I already had Jonny Evans as a substitute. Normally I would have put Chris Smalling there. He has been playing recently.
"We had to pull Chris in as a substitute because Jonny had already done the warm up. It was a blow because the experience Rio has got is always vital in games like that."
A superb individual goal by winger Nani had fired United ahead on three minutes at Molineux, but Wolves equalised with a fine header by full-back George Elokobi.
Five minutes before half-time Kevin Doyle was deemed to have got the final touch on a Nenad Milijas free-kick to put Mick McCarthy's side 2-1 up.
McCarthy insists he is getting "fed-up" of people asking him about the team spirit within his squad, as they have struggled at the wrong end of the table for most of the season.
"That tells everyone about the team spirit in my team," he said.
"I know we are still bottom of the league, but I do not care one iota, because the time it matters is May 22 (the last day of the season).
"The thing we have to do now is not go around lounging and basking in the sunny day of beating Manchester United. We have other teams coming up that we can do damage to in order to preserve our Premier League status."