Defending champions Dong Tam Long An Tiles defeated Da Nang 2-1 in the Vietnamese League's final round on Sunday, holding back the trophy though they vied for the title at a no-audience stadium, and concluding a neck-and-neck tournament.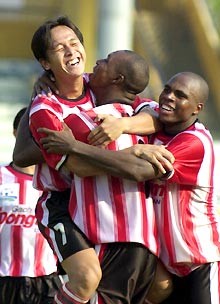 Dong Tam Long An players celebrate their championship.
Before the final round – the 24th of the 13-club league – Dong Tam, Da Nang and four other clubs saw a chance to win the marathon tournament. The defending champions were leading with 37 points, one point ahead of Binh Duong and Hoang Anh Gia Lai. Both Binh Dinh and Song Lam Nghe An had 35 points, while Da Nang possessed 34.
In addition, Dong Tam under Portuguese coach Henrique Calisto had to play at an empty stadium, though it was their home Long An Stadium, because of the Viet Nam Football Federation's penalty against them, resulting from chaos at the stadium that injured an assistant referee in the 22nd round. Another disadvantage was Dong Tam's Brazilian goalkeeper Fabio Santos was suspended.
Long An fans, who had to watch the game on a wide screen outside the stadium, were much worried in the first half because Brazilian striker Da Silva pushed Da Nang ahead, while in Pleiku, home side Hoang Anh Gia Lai earned their first goal over Binh Duong as early as in the 11th minute. However, Binh Duong equalized late in the first half.
Brazilian striker Carlos Rodriguez revived Long An fans' hopes seven minutes after the break. He passed two Da Nang defenders in the box and kicked the ball over goalie Vo Van Hanh from a very narrow angle.
Also in the 52nd minute, but in Pleiku, Binh Duong forward Quang Thanh destroyed local fan's excitement with a goal: two-one for the guests.
At the empty stadium in Long An, the reigning champions recovered strongly after their equalizing goal, playing much faster and higher, making the game more exciting, because their rivals Da Nang had more chances with counter attacks. However, the visiting team failed to translate the opportunities into a goal.
Coach Calisto kept shouting 'attacks' to his players, and they did so because they knew that a draw did not mean the trophy. In the 80th minute, striker Nguyen Viet Thang beat goalie Van Hanh with a strong shot from just about seven meters.
The hosts won 2-1 in the end and celebrated immediately because with 40 points, they did not care about other matches' results. Their fans, who had to wait outside the stadium, flooded the stands immediately to share their happiness.
On the contrary, Tien Giang team, a neighbor of two-time champions Dong Tam Long An, had to say goodbye to the premier league because they were relegated to the first division after a scoreless draw with Hai Phong in Hai Phong City in the last round. Tien Giang, who were promoted to V-League last year, had only 23 points after 24 rounds.
In the 24 rounds, Southern Steel-Saigon Port striker De Jesus scored 18 goals, taking the top scorer title.
Hai Phong will play a playoff with Huda Hue, third in the first division, on September 1 for a berth in V-League in the next season. Dong Thap and Thanh Hoa were promoted to the league already. Therefore, V-League will have 15 clubs in the next season, instead of 13.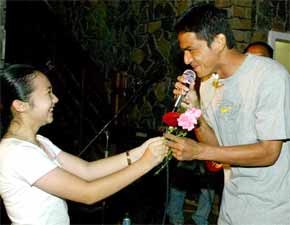 A Vietnamese fan gives flowers to Thai striker Kiatisuk (R), who has just said goodbye to football.
Sunday was the last day of this season, and also the last day of a Thai trio at Hoang Anh Gia Lai. Kiatisuk Senamuang, nicknamed as Thailand's Zico, Tawan and Dusit joined Hoang Anh in 2002 and made their club invincible in the two seasons 2002-03, and 03-04. They have only one reason to leave: stopping playing football as professionals and returning to their country.
Sunday's Results
Dong Tam Long An Tiles vs. Da Nang 2-1
Hoang Anh Gia Lai vs. Binh Duong 1-2
Ha Noi ACB vs. Southern Steel-Saigon Port 4-2
Khanh Hoa vs. Hoa Phat Ha Noi 3-1
Song Lam Nghe An vs. Binh Dinh 2-2
Hai Phong vs. Tien Giang 0-0
Final Ranking
1- Dong Tam Long An Tiles 40 points
2- Binh Duong 39
3- Binh Dinh 36
4- Hoang Anh Gia Lai 36
5- Song Lam Nghe An 36
6- Khanh Hoa 35
7- Da Nang 34
8- Ha Noi ACB 33
9- Nam Dinh 32
10- Southern Steel-Saigon Port 29
11- Hoa Phat Ha Noi 27
12- Hai Phong 24
13- Tien Giang 23