Eight football teams of underprivileged children – Hanoi, Gia Lai, Dong Nai, HCM City, Dong Thap, Ca Mau, Cambodia and Thailand – started this year's football tournament Vietnam for them in Ho Chi Minh City on May 27.
Cambodia and Thailand join the indoor competition for the first time as the invited guests. The tournament is for children under 15 and lasts until May 31, staged at Military Zone 7 Indoor Stadium in Phu Nhuan District.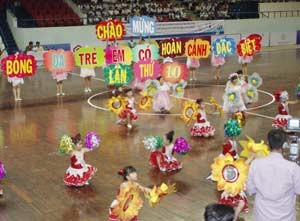 The opening ceremony for the tournament at Military Zone 7 Indoor Stadium on May 27 (Photo: T. Nguyen)
In the opening day, Thailand beat Ho Chi Minh City 4-0. They demonstrated good skills for futsal, or indoor football.
In the other games, Gia Lai crushed Dong Thap 8-1, Dong Nai defeated Ca Mau 7-0, and Hanoi beat Cambodia 5-0.
Vietnam Television broadcast live on VTV3 Channel the opening ceremony, the opener, and will do the same for the final and the closing ceremony on May 31.
The tournament organizers are newspapers Cong An TPHCM (HCMC Police) and The Thao Viet Nam (Vietnam Sports), and Vietnam Data Communication Company (VDC)-Southern Region.
The prizes for the champions, runners-up, third-placed and fourth-placed teams are VND20 million, VND15 million, VND10 million and VND5 million, respectively.
Vietnamese children who join the annual tournament, which began in 1999, come from SOS villages and charity houses.
The organizers will select a team representing Vietnam for a friendly tour to Thailand, scheduled for September, at the invitation of Thai company Siam Sport.