PORT ELIZABETH, South Africa, July 2, 2010 (AFP) - Dutch coach Bert van Marwijk was furious over suggestions that Arjen Robben had cheated in Friday's famous 2-1 World Cup quarter-final defeat of Brazil.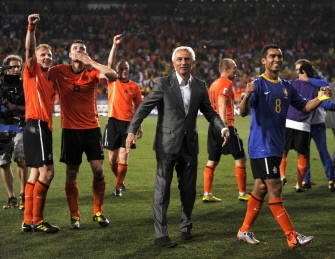 Netherlands' coach Bert Van Marwijk (C) celebrates with Netherlands' players they won the quarter-final Netherlands vs. Brazil on July 2, 2010. AFP
The Bayern Munich winger was widely perceived to have deliberately dived to win a freekick which resulted in the Dutch drawing level with Brazil at 1-1 eight minutes after the break.
The set-piece was taken short, enabling Wesley Sneijder to work the ball into space and deliver a left-footed inswinger into a congested goalmouth.
Brazil goalkeeper Julio Cesar came off his line to try and punch the ball clear but collided with Felipe Melo and the ball skimmed off the midfielder's head and into the net.
In another match-turning incident Melo was later shown a red card for a stamp on Robben.
Van Marwijk was challenged on the importance of Robben 'winning' the all-important freekick at the post match press conference.
Once he had identified the journalist who had put the question he told him: "I think that's chauvinistic.
"Our opponents tried to provoke us more than we tried to provoke them. You could see that from the beginning."
On Melo's sending off he added: "I've seen the images of the red card situation, and you would be ashamed, ashamed for Brazilian football."
Meanwhile, veteran defender Andre Ooijer hopes his World Cup run will boost his chances of finding a new club after PSV Eindhoven opted not to offer him an extended deal.
"It bothers me, but at the moment I have other things on my mind," said the 35-year-old.
"I wasn't nervous out there. I'm not 18, I am almost 36. I am the daddy of this group, but I feel there's a lot of maturity amongst the younger players. I am convinced this team can become world champions."