THE HAGUE, July 3, 2010 (AFP) - The Dutch press waxed lyrical Saturday about the Orange Eleven's 2-1 elimination of Brazil to reach the football World Cup semi-finals in South Africa next week.
"World Class," headlined the front page of the popular De Telegraaf newspaper about Friday's encounter in Port Elizabeth, asking: "Who can stop this team?"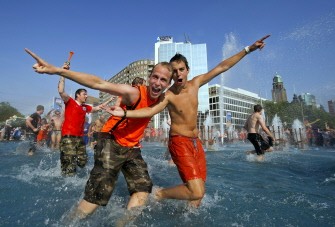 Dutch football fans celebrate the victory of their team over Brazil on July 2, 2010 in Rotterdam. Netherlands won 2-1. AFP
With photographs of all 11 players, the daily named them heroes and said they were on the road to the Netherlands' first World Cup final since 1978.
"Gold in sight," it said.
The popular Algemeen Dagblad called the Dutch victory "Grandiose!"
"Top favourite Brazil sent home 2-1 in a grandiose football thriller," it continued, dedicating several pages to party photographs and quotes from Dutch fans celebrating their team's victory.
For its part, the leftist daily Volkskrant asked: "Will Oranje (Orange) win the World Cup? It is possible."
Next to a photograph of Inter Milan star Wesley Sneijer whose second-half header put the Netherlands in the lead, the newspaper said: "There is still room for their play to improve."
The Dutch next face Uruguay in a semi-final in Cape Town on Tuesday.