THE HAGUE, July 10, 2010 (AFP) - If Holland wins Sunday's World Cup final, the economy could be boosted by up to three billion euros (3.8 billion dollars) as the Dutch spend more when they are on a high, economists say.
"I predict that a Dutch victory will add 0.5 percent of the gross domestic product (of about 600 billion euros) to the economy over the next year," Josee Bloemer, an economist at Radboud University in Nijmegen in east Netherlands told AFP ahead of the deciding clash against Spain in Johannesburg.
"If the Netherlands wins on Sunday evening, that will be good for Dutch self confidence, which is good for consumer confidence."
Charles Kalshoven, chief economist for Dutch bank ING, said euphoric moments have proved in the past prompted the Dutch to loosen their purse strings.
"It's a psychological effect. We also see it when the weather is good. When it is a long, rainy winter, consumer confidence is lower."
Kalshoven however was more cautious about the windfall in case of a World Cup victory, forecasting an additional 700 million euros in consumer spending to the end of the year -- a rise of 0.25 percent.
This amounted to a boost of 0.1 percent to the economy, he said, about 600 million euros "as some of the benefit will leak abroad".
"Consumption has been reined in as a result of the economic crisis," Kalshoven said.
When the feel-good factor kicks in, "I expect that people will make some of those large purchases that they have been postponing, furniture and appliances ... things that have nothing to do with football.
"When consumer confidence rises, people are more inclined to think: 'Hmmm, maybe I should buy that lounge suite after all'. People just need a small push."
Kalshoven said there will also be some money to be made from mementoes like World Cup DVDs.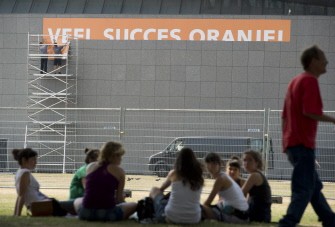 People hang a banner reading "Lot's of Success to Orange" in honor of the Dutch National football team at the The Van Gogh Museum in Amsterdam on July 9, 2010. AFP
Yvonne Fernhout, spokeswoman for the Dutch retailers' federation, said the sector had expected a 200 million euro windfall from the World Cup, "but now that we're playing in the finals I think it will be even more than that".
"This weekend, many people will still be buying snacks, food, beer and orange paraphernalia" for Sunday's final, she said.
Kalshoven said the Dutch would spend about 60 million euros overall on orange paraphernalia for the World Cup, at an average of five euros per person over 18.
But Groningen University sports economist Ruud Koning was less hopeful of a post-World Cup bonanza.
"0.5 percent seems like a lot to me," he told AFP. "This will be a once-off jolt to consumer confidence, not a permanent one. And anyway, many Dutch people have postponed their holidays to after the World Cup and will be spending their money abroad for the next few weeks."
Bloemer said victory would improve the Netherlands' visibility abroad, greatly contributing to long-term consumer and investor confidence.
"It will make people more likely to buy Dutch products, to come to the Netherlands for their holidays and to invest in Dutch companies," she said.
"But this will only materialise if we win. Nobody remembers the losing team four years after the fact."