BUENOS AIRES, July 29, 2010 (AFP) - Diego Maradona has accused Argentina football chief Julio Grondona of lying and team manager Carlos Bilardo of treason in a bitter attack on the two men he insists plotted his downfall.
"Grondona lied to me. Bilardo betrayed me," said an emotional Maradona, whose colourful and controversial reign as Argentina coach came to an abrupt end on Tuesday.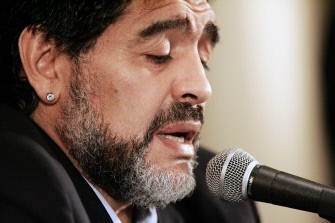 Argentina's ex team coach Diego Maradona speaks during a press conference in Ezeiza, province of Buenos Aires on July 28, 2010. AFP
"Grondona, in the dressing room after we had been knocked out of the World Cup in South Africa, told me in front of witnesses and the players that he was very happy with my work and that he wanted me to carry on.
"On our return to Argentina, things started to take on a bizarre twist and on Monday I met with Grondona.
"After five minutes, he told me that he wanted me to continue, but that seven of my technical staff could not stay. When he told me this, he was saying that he didn't want me to carry on in the job.
"He knows that it is impossible for me to stay without my assistants."
As well as having Argentina Football Association (AFA) president Grondona in his sights, Maradona, reading from a prepared statement, also hit out at Bilardo who coached the 1986 World Cup winning team which Maradona skippered.
"When we were in mourning, Bilardo was working in the shadows to get me fired," he said.
Maradona was close to tears as he listed his grievances.
"I was called in with the squad divided and split by internal problems.
"They asked me to put out the fire and we did it. I have given everything. Treason is everywhere. There are people who do not want the best for Argentine football.
"They only have their own personal interests at heart."
Maradona, who took charge in October 2008, has been replaced for the time being by under-20 coach Sergio Batista who will lead the team for the August 11 friendly against the Republic of Ireland in Dublin.
Before the meeting with Grondona, Maradona, whose final game in charge was the 4-0 World Cup quarter-final defeat by Germany, had made it plain he wanted to stay as long as he could keep his staff.
"I really want to stay, but it depends on Grondona," Maradona said at the weekend.
"If they touch a hair of one of my guys, even the masseur or the kitman, I'm going.
"I want to continue the adventure but not with (just) anyone. I chose these people. I want to continue working with them."
The decision to dump Maradona sparked some raw reactions in Argentina with the 71-year-old Bilardo singled out by the country's media.
"The only one who came through unscathed and even strengthened from this little history of betrayal, impudence and the battles of ego and vanity is him, Carlos Salvador Bilardo," said the daily Clarin newspaper.
"This is the same man who said in April 2009 that if Maradona was going to quit or if they were going to fire Maradona, then he would step down immediately."
Maradona's tenure was marked by his use of over 100 players as he grappled with various formations, a two-month ban for a foul-mouthed outburst at journalists and an eleventh hour qualification for the World Cup.
With Maradona gone, focus has turned on the identity of his long-term successor.
One name in the frame is Alejandro Sabella, 55, who led Estudiantes to the Copa Libertadores last year.
Other potential candidates include Miguel Angel Russo of Racing Club as well as Batista, who helped steer the country to Olympic glory in the Beijing Games in 2008.