LONDON (AFP) – England's failed 2018 football World Cup bid tried to use Prince Andrew's relationship with the Qatari royal family to secure a voting alliance, a report said Saturday.
It came as several newspapers rounded on Queen Elizabeth II's second son over his business links.
The British Broadcasting Corporation claimed a freedom of information request it submitted showed that diplomats and the Football Association (FA), the game's governing body in England, had worked on a strategy for Qatar's support.
Andrew, 51, the Duke of York, has served as Britain's special representative for international trade and investment since 2001 and has significant influence and contacts worldwide.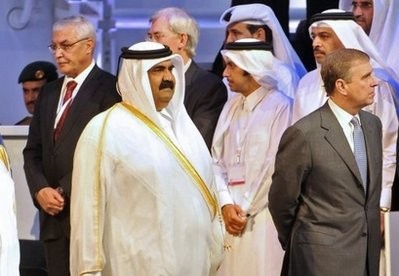 AFP file - Britain's Prince Andrew, the Duke of York (R) and Qatari Emir Sheikh Hamad bin Khalifa al-Thani (C, L) at the inauguration ceremony of the Qatargas 2 plant in the northern Ras Laffan industrial zone on April 2009.
Correspondence from British diplomats in Qatar made it clear that securing the support of the Gulf state's emir would be crucial to England's chances of landing the 2018 tournament, the BBC said.
Its report said a plan was discussed to use royal influence -- Andrew in particular -- to secure a voting alliance.
One email from a Foreign Office official said: "The advice from the ambassador in Doha is that, subject to anything that happened at that meeting, we should ask the duke to be kind enough to speak to the emir on the phone as soon as is convenient... in order to seek his support for the England bid."
It is not known if any meeting or phone call took place, the BBC said.
Andrew's office has said no lobbying took place. The FA has declined to comment.
Another email showed concerns over the eventual winning Russian bid for the 2018 tournament.
"It is the Russians who have been signalled to us consistently by the Qataris as the main threat to England," it read.
England was eliminated in the first round in December, gaining only two votes, including its own.
Prime Minister David Cameron, Prince William, the FA president and Andrew's nephew, plus former England captain David Beckham had all flown to FIFA's headquarters in Zurich in a last-ditch bid to garner support.
The 2018 tournament went to Russia, with the 2022 event heading to Qatar.