Arsenal midfielder Cesc Fabregas has hinted that his future at the club could be conditional on manager Arsene Wenger remaining in charge of the Premiership side.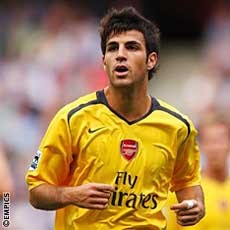 Cesc Fabregas (Photo: www.arsenal.com)
"I'm aiming to see out my contract at Arsenal, but my future is undoubtedly linked with that of Arsene Wenger," Fabregas was quoted as saying by Spanish sports daily AS after speaking at a promotional event in Madrid.
"He (Wenger) was the person who came out and defended me when there was talk of me leaving and he was the person who signed me when I was just 16. He has a contract until 2008 and despite what people are saying I'm confident he will stay on."
Questions have been raised about Wenger's position at Arsenal following the decision of vice-chairman David Dein to quit the board, though the club remains confident the French tactician will remain at their helm.
"When I finish my time in the Premiership, I would like to play in the Spanish league," said Fabregas. "I'm attracted by the philosophy of a number of clubs and so it would be nice to return one day."
Fabregas, who will turn 20 next month, signed a new eight-year contract with Arsenal at the start of this season. The Spanish international was named as runner-up to Manchester United forward Cristiano Ronaldo in this season's PFA-Young-Player-of the-Year award.