Viet Nam will take on Macau in the first qualifying round of the Asian Zone World Cup football match at Thong Nhat Stadium in HCM City on June 29.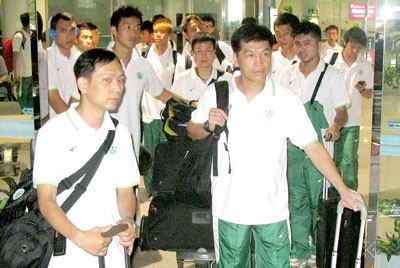 Macau football players arrive at Tan San Nhat Airport on June 27.(Photo:SGGP)
The Macau football team of 18 players arrived yesterday in Ho Chi Minh City accompanied with Hong Kong coach Leung Sui Wing.
Coach Wing said he was optimistic about his players as only a week ago they had played the Macau National Championship and were still in competitive spirits. Besides, the team had practice sessions before coming to Vietnam and had just beaten the Hong Kong U21 team 1-0. However, he is still worried about the health of all his players but had immense faith in their ability.
His knowledge of the Vietnamese team, their German coach and of the four naturalized players was through the AFC website.

Meanwhile, the Vietnamese football team gathered at Thong Nhat (Reunification) Stadium in Ho Chi Minh City on June 27 for practice training in preparation for the upcoming 2014 World Cup qualifying match in Macau (China).

Vietnam's coach Falko Goetz said that he would choose 18 players out of the 24 for the match.
Earlier, the team played a friendly match against V-league club Dong Tam Long An. The team lost out to Dong Tam Long An 3-1, which was worrisome to fans.

Although the team drew 1-1 against First Division team Dong Nai five days earlier, Goetz remained optimistic about Wednesday's match. He is hoping Vietnam gets off to a good start when they meet Macao.