MUNICH, Germany, Sept 16, 2010 (AFP) - Bayern Munich coach Louis van Gaal asked for the German giants' fans to show a little more patience after they laboured to a 2-0 win over resilient Roma in the Champions League.
With the 66,000-strong crowd at Munich's Allianz Arena growing ever restless, Wednesday's Group E match was heading for a 0-0 draw until Germany's Thomas Mueller lit up a dull night by curling home a fine shot on 79 minutes.
Roma's resolve broken, Bayern raised the tempo in the closing stages as the Italians tired and second-half substitute Miroslav Klose latched onto a long free-kick to claim his side's second and seal the win.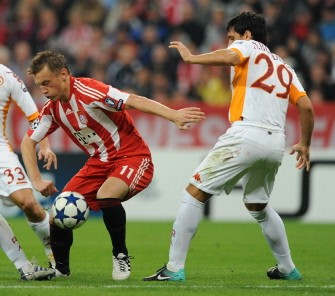 Bayern Munich's Croatian striker Ivica Olic (L) vies with AS Roma's Argentinian defender Nicolas Burdisso (R) during their game Sep. 15. AFP
Having reached last season's final before losing 2-0 to Inter Milan, Bayern have failed to impress in the Bundesliga so far this season, but van Gaal asked their fans to give his side time to prove themselves.
"I think we played very well, given the circumstances," said van Gaal after a few disgruntled whistles echoed around the stadium.
"They just defended, which always makes it hard. After 70 minutes, Rome couldn't run any more.
"The fans must understand that we needed time to break them down. We created two fine goals and could have scored more, so that is fantastic.
"I think it is always hard to play against a side who pack 10 men behind the ball. It took time to break them down, but we did that.
"You could see they were tired after 70 minutes and then we had our chances to score. I told the players to keep playing the way they were and the chances would come.
"At the end, Roma didn't do much and that is down to us as we kept up our discipline."
Roma coach Claudio Ranieri, who led his team to second place in Serie A last season, said he was happy with his side's effort, but not the result.
"It was a bad start, but I was very happy with the team, I'm satisfied with the effort," he said.
"However, I'm not satisfied with the result, it maybe wasn't a fair reflection, because we also had many chances. They converted the ones they had.
"It's a shame (we conceded the first goal). Obviously they had increased the tempo, they had two shots from distance and then this great goal from Mueller.
"It's a shame because we were doing very well. (Marco) Borriello had already gone close to scoring in the first half."
In the next round of matches on September 28, Bayern are at Basel while Roma host Romanian side CFR Cluj.