LONDON, Feb 13, 2011 (AFP) - Manchester United manager Sir Alex Ferguson insists he has substantial funds to spend on new players in the next transfer window.
While Premier League rivals Chelsea, Manchester City and Liverpool all spent vast sums to improve their squads during the January window, Ferguson's only signing was a low-key swoop for Danish goalkeeper Anders Lindegaard.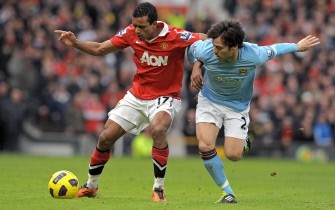 Manchester United's midfielder Nani (L) vies with Manchester City's midfielder David Silva (R) during the English Premier League match between Manchester United and Manchester City at Old Trafford in Manchester on February 12, 2011. United won 2-1. AFP
Ferguson's lack of spending brought renewed speculation that United's owners - the Glazer family - are not willing to plow large amounts of cash into team rebuilding.
However, Ferguson is adamant the money is there if he wants it and he expects to go back into the market at the end of the season.
"Billionaire owners have introduced a new world that is turning football on its head," Ferguson told United Review.
"For our part, we cannot afford to sit in an ivory tower. We have to face the challenge.
"It is a healthy competition and it goes without saying that we will not shirk it and I don't think we are doing so.
"Although I let the transfer window shut without signing a new player, that is because we did our homework some time ago and didn't have to rush into any emergency buying.
"We had an interest in one player, and I thought we had a chance of bringing him in, but the other parties involved weren't ready and so we have put it away until the summer."