MANCHESTER, United Kingdom, Feb 11, 2011 (AFP) - Darren Fletcher has warned his Manchester United team-mates that performances must improve if they are to win silverware this season.
Sir Alex Ferguson's side lead the Premier League by four points and are in the last 16 of both the Champions League and the FA Cup.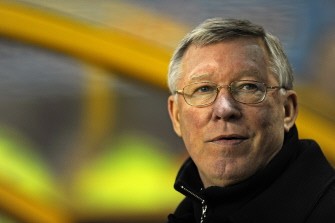 Sir Alex Ferguson looks on before the English Premier League match between Wolverhampton Wanderers and Manchester United at Molineux Stadium in Wolverhampton, England on February 5, 2011. AFP
But they head into Saturday's eagerly-anticipated derby at home to third-placed Manchester City on the back of a shock 2-1 setback against struggling Wolves which ended their 29-match unbeaten league run.
That first league defeat since April 3 has given United's title rivals, including City, fresh hope of overhauling Ferguson's table-toppers.
And Fletcher insisted United will have to step up if they want to avoid a repeat of last season when all they won was the League Cup as Chelsea went on to clinch a Premier League and FA Cup double.
"We feel we have played well at times this season," said the Scotland midfielder. "But we expect more -- we expect more of ourselves all the time -- there's no ceiling on performance levels here.
"There are a lot of tough games to come and there's a long way to go to win the league.
"We definitely feel as though we can play better and hopefully our form improves towards the end of the season, which is when it really matters in the league and the Champions League.
"This is when the big games come, the matches that ultimately win you trophies. We've got to go to Liverpool, Chelsea and Arsenal and we play Manchester City this weekend. There are a lot of big matches ahead.
"But we enjoy big games here and this club is all about performing and rising to those challenges.
"We know all of that lies ahead of us and we've never naively thought that the league is over. There is lot of hard work to come, lots of big games and plenty of twists and turns I'm sure."
A defeat for City, who sit five points behind United having played a game more, would surely leave Roberto Mancini's side with too much ground to make up with just 11 games remaining after Saturday.
But United are likely to be without Rio Ferdinand because of a calf strain although Ferguson can call on the services of Park Ji-sung who has reported back for training after representing South Korea at the Asian Cup.
City will again be relying on the scoring talents of their former United forward Carlos Tevez.
The Argentina international returns to Old Trafford with 18 Premier League goals to his name this season, one short of United's Dimitar Berbatov.
It is three years since City last won at the home of their fierce rivals, but midfielder James Milner believes there is enough quality throughout the team to "put a spanner" in United's title push.
"We are confident and we have world-class players all the way through the side," said England international Milner.
"United are a top team, they have the experience of winning titles. They are looking to do that again and it's up to us to go and put a spanner in the works.
"We know we can keep improving and we will do that. We work hard in training and we have great scope to go on and become even better. I think that's the main thing, to move forward as a team."
Mancini is unlikely to be able to call on the services of Mario Balotelli, the Italian forward who is losing his race to recover from a knee injury in time.