ATTERIDGEVILLE, South Africa, July 9, 2010 (AFP) - Germany's squad have been hit by a 'flu virus and have worries over the fitness of star striker Miroslav Klose ahead of Saturday's World Cup third place play-off against Uruguay.
Coach Joachim Loew is suffering from the flu - and so are captain Philipp Lahm, striker Lukas Podolski - though it is hoped both will be fit for the play-off in Port Elizabeth.
Goalkeeper Tim Wiese has a knee injury, while Klose - who could break Ronaldo's record of 15 World Cup goals as he presently has 14 - has a back problem as the Germans recover from the disappointment of losing Wednesday's semi-final.
"Last night, some flu virus hit us hard, maybe to do with the flights, air conditioning and maybe the disappointment (of losing to Spain)," said team manager Oliver Bierhoff, who hinted Lahm may not start.
"Loew has a serious case of flu, but we are trying to get him fit and on the bench for Saturday.
"It remains to be seen if Klose will play, likewise we don't want Lahm to get injured and then carry that into the new Bundesliga season."
Assistant coach Hansi Flick will step in for Friday afternoon's press conference in Port Elizabeth, but Loew is expected to take his place in the dugout on Saturday. Flick also took Friday training.
Fresh from the disappointment of Wednesday's 1-0 defeat to Spain in Durban, Bierhoff says Germany are determined to win the play-off to finish the World Cup on a high.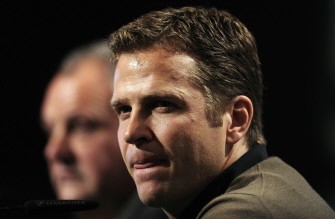 Germany's team manager Oliver Bierhoff addresses a press conference at the Velmore hotel in Erasmia near Pretoria on July 9, 2010. AFP
Germany also finished third at the 2006 World Cup, but Bierhoff said other members of the squad may be given their chance against Uruguay.
"For us, this World Cup is anything but over, we will be 100 percent focused and dedicated," he said.
"We want to play with the same fresh, free-flowing football we have shown so far here.
"Sometimes it is good to field unspoiled players, as we did in 2006."
Germany will fly home on Sunday evening - at the same time Spain and the Netherlands are due to contest the final at Soccer City - on an A330 Airbus.
"I do hope it has the technology so we can watch the game, but I am not sure," said Bierhoff.
"It won't hurt us too much to not be able to see it, it is not a must-see thing, it would only add to the pain for us."
Loew, Flick, Bierhoff and goalkeeping coach Andreas Koepke are all out of contract after the World Cup, but Bierhoff would only say they will sit down and discuss their future in the tournament's aftermath.