BARCELONA, March 3, 2011 (AFP) - Barcelona coach Pep Guardiola entered hospital Thursday with acute back pain and was diagnosed with a slipped disc, the club said.
The 40-year-old had been in obvious discomfort when he attended Barcelona's 1-0 away victory over Valencia the previous evening and he later had to seek hospital treatment, said a statement on the club website.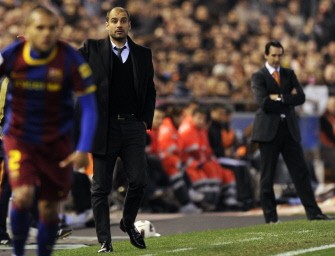 Barcelona's coach Josep Guardiola (C) watches the Spanish league football match opposing Valencia and Barcelona at Mestalla stadium in Valencia on March 2, 2011. Barcelona won 1-0. AFP
Medical tests on the former Spanish international found he had a herniated disc, in which a rupture allows the soft core of a spinal disc to bulge out, often pressuring nearby nerves.
"The Barca manager will be treated with drugs and epidural injections, and his hospital discharge will depend on how successful that is," the club statement said.
As a result Guardiola missed the squad's training session Thursday. He had been suffering from back pain for two weeks, and was also forced to skip training on the eve of the Valencia clash.
Argentine sensation Lionel Messi scored the goal in Valencia that pushed Barcelona 10 points clear of rivals Real Madrid at the Spanish first division summit.
It handed Guardiola his first ever victory at the Mestalla, the only top-flight venue where he had failed to secure three points.
Last week, Guardiola signed a deal extending his contract with Barcelona by a year to June 2012.