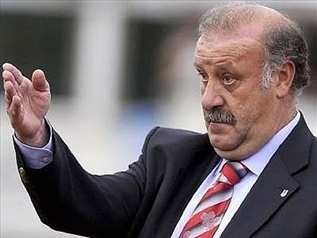 (File) Spain coach Vicente del Bosque
MADRID, June 26, 2011 (AFP) - Spain coach Vicente del Bosque says the intense rivalry between Real Madrid and Barcelona has left "wounds" on the national team which won the 2010 World Cup that need to be healed.
The two clubs -- which supplied the bulk of Spain's line-up at the tournament in South Africa last year -- were involved in a series of spiky exchanges before their series of four matches in the space of 18 days in April and May.
Real coach Jose Mourinho was handed a five-game ban by UEFA after he made allegations of favouritism towards Barcelona following Real's 2-0 defeat in the first leg of their Champions League semi-final tie.
"We will have to heal the wounds as soon as possible. The clashes have left their mark because there are people who use the Madrid-Barcelona rivalry to divide and disengage," Del Bosque said in an interview published Sunday in Barcelona-based daily newspaper La Vanguardia.
"We will look for solutions, without abusing diplomacy. I hope all this mess with so many matches does not contaminate us too much because it would be a serious mistake.
"During a competition there sometimes is friction but you should never lose respect. If we want to be champions, if we want to continue on the path to success, we need to maintain a good atmosphere."
Del Bosque, who has led the national team since 2008, led Real Madrid to two Champions League titles and a pair of league titles before he was unceremoniously sacked as the club's coach in 2003.
Asked if he would ever return to Real Madrid, the 60-year-old said: "No, never. Never. Nothing would make me change my decision. I will not return to Madrid but I have to say that, as an institution, the club gave me everything and I don't feel that they have a debt towards me."
Mourinho's appeal against the five-game ban will be heard on July 29.
Barcelona went on the win the Champions League with a 3-1 defeat over Manchester United in London's Wembley stadium last month and they won the Spanish title race as well.
"Barcelona really is at the moment one step above the rest," said Del Bosque.
"But I see teams out there that are also very strong and the moment will come when they can also lose. Barca have shown that they are better, but in football no one is invencible."