ARLINGTON, Texas, June 5, 2011 (AFP) - CONCACAF general secretary Chuck Blazer had nothing to say Sunday about his bribery allegations against FIFA vice president Jack Warner and executive committee member Mohamed bin Hammam.
Blazer, an American, appeared at the opening match of the CONCACAF Gold Cup, a 12-nation North American regional championship tournament being staged at US venues. The winner qualifies for the 2013 FIFA Confederations Cup.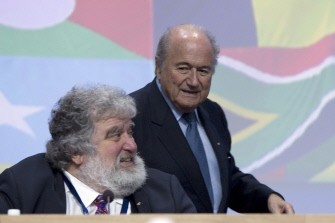 FIFA President Sepp Blatter (R) walks behind the general-secretary of the Caribbean, North and Central American (CONCACAF) Chuck Blazer on June 1, 2011 at the start of the 61st FIFA congress at the Zurich Hallenstadion in Oerlikon near Zurich.
Blazer claimed bin Hammam, the only rival to re-elected president Sepp Blatter in last Wednesday's FIFA election, and CONCACAF president Warner offered $40,000 to Caribbean football chiefs for votes in the election.
Blatter was unopposed and voted into a fourth term as president while Warner and bin Hammam were suspended while an investigation into the claims continues.
"I won't be addressing any of the jurisprudence issues," Blazer told reporters.
Blazer dismissed the idea that the squabble would be received poorly by football supporters worldwide.
"I expect the image they get is that people are of different opinion," Blazer said. "We are working hard to do the right thing. Fans are not here to watch the politics. They are here to watch the football on the field."
The Gold Cup kickoff and Blazer's appearance came one day after CONCACAF suspended Lisle Austin, its acting president, for trying to have Blazer removed as general secretary, although details of the suspension were not released.
"I won't comment on the politics but the document he received is detailed," Blazer said.
CONCACAF vice president Alfredo Hawit of Honduras is now the group's acting president. CONCACAF has asked FIFA to extend Austin's ban worldwide until a July 13 hearing.