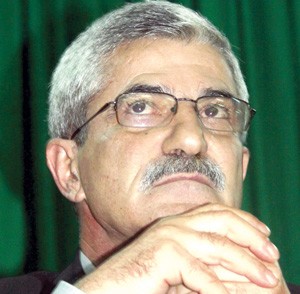 Henrique Calisto gestures during a press meeting in Hanoi March 2, 2011 where he announced he said goodbye to Vietnamese football (Photo: SGGP)

Portuguese tactician Henrique Calisto announced Wednesday he had resigned as head coach Vietnam, saying the reason was criticism from the general public and media against his team's failure to defend their Southeast Asia crown last year
.
Under the 'wizard" – the way he was nicked in the football-crazy country – Vietnam became the Southeast Asia champions for the first time in 2008. But in the 2010 semifinals, they were defeated by Malaysia, who later became the new champions.
Calisto and the Vietnam Football Federation held a press meeting on Wednesday in Hanoi to publicize their decisions – the coach had resigned and VFF accepted his letter of resignation.
VFF deputy chairman Nguyen Lan Trung said his contract for 2010-2013 had been cancelled and Calisto could leave.
The tactician became Vietnam coach for the second time in 2008, when his team won the ASEAN Cup, and for the first time in 2002 when they took the bronze medal in the biennial tournament.
The 58-year-old is set to become coach of Thai League club Muang Thong United.
Asked if he recommend a new coach, Calisto said he did not as he wanted VFF to actively find out one.
VFF general secretary Tran Quoc Tuan said his body is in a rush to look for a new head coach as the Vietnamese Olympic teams will compete in the Southeast Asian Games late this year.
He added the VFF working session with Calisto, who has spent more than 10 years with Vietnamese football, went smoothly. VFF representatives expressed deep thanks to the
Portuguese tactician for what he has done for Vietnamese football, Tuan said.