MANCHESTER, United Kingdom, March 14, 2011 (AFP) - Manchester City manager Roberto Mancini believes his side are closing the gap on United as he prepares to face his neighbours in the FA Cup semi finals.
City booked a place in the last four against their old rivals with a 1-0 quarter final victory over Championship side Reading.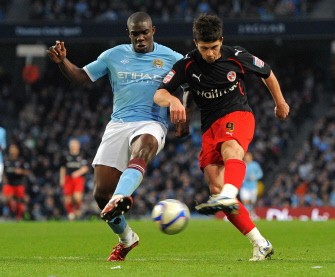 Reading's striker Shane Long (R) shoots past Manchester City's defender Micah Richards during the FA Cup quarter-final between Manchester City and Reading on March 13, 2011. AFP
The Eastlands club have not won any major silverware since 1976 and have not even been in an FA Cup semi final since they lost the FA Cup final in 1981.
They will meet Sir Alex Ferguson's side on April 17 at Wembley looking to end a miserable run of just one win in their last eight matches against the Old Trafford club. United knocked City out of the League Cup semi finals last season and continue to stay one step ahead of them in the Premier League.
Much has been expected of City since the Abu Dhabi United Group takeover in September 2008.
But Mancini thinks City are steadily closing on Ferguson's team.
He said: "I think that for us it's important to improve. We have improved a lot in the last year.
"We are a good team and when we lose games we've played as a team and this is important.
"You can only improve if when you lose you understand what mistakes you have made.
"Manchester City is now very close to this club (United).
"We are very close with all the top squads. We need to improve more I think.
"It will be a great semi final and we have a chance to go to the final, like them."
Micah Richards scored the only goal to beat Brian McDermott's side at Eastlands and admits that City are desperate for revenge on their rivals.
He headed in from Aleksander Kolarov's corner with just over a quarter of an hour remaining to take City through to the last four.
Last month's defeat at Old Trafford, with Wayne Rooney's memorable free kick, is fresh in the defender's mind.
He said: "After Rooney's overhead kick. We're looking forward to it. It's going to be a great game."
Richards also confirmed that he had a disagreement with Mancini in the wake of Thursday's 2-0 Europa League defeat to Dynamo Kiev.
He added: "It's all happy. We had a little talk after the game and tempers were raised because we lost 2-0 and no-one was very happy and no-one was very happy. Hopefully we can do the job next week."
Belgian defender Vincent Kompany claims it will not be possible to underestimate the importance of the FA Cup semi final with United.
The build up will drag on for weeks but Kompany is looking forward to the trip to Wembley.
He said: "I'll let you guess how much it means and I'll let you guess how much the next opponent means to us.
"We did the job after a very difficult game in Ukraine and I'm confident we can keep doing the job until the end of the season.
"There's no easy way to the final, we're looking forward to playing them, we're happy about it."
McDermott was proud of the display from his players, who are now looking to seal a play-off place in the Championship.
He said: "I thought going to get a draw and cruel to be beaten on a set play. Even at 1-0 down we were still in the game.
"We felt we needed to play on the front foot. They keep the ball well. We have pushed Man City a long, long way and I felt we were unfortunate not to get the draw.
"This is where we want to be playing on, this is the stage we want to be on every week."