LONDON, Aug 9, 2011 (AFP) - England's international football friendly against the Netherlands has been called off after violent unrest in London, the Football Association confirmed on Tuesday.
"It is with regret that tomorrow's international fixture with Holland at Wembley (Wednesday 10 August) has been called-off," an FA statement said.

Fresh violence in the British capital has already led to the postponement of League Cup matches involving West Ham, Charlton and Crystal Palace on the advice of police, who will now review arrangements for Wednesday's friendly at Wembley.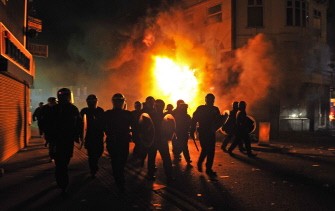 AFP - British riot police arrive in front of a burning building in Croydon, South London on August 8, 2011
Any decision to call off the match, where significant manpower would be needed to provide security for a crowd of 70,000 spectators, will rest with the police, according to FA sources.
England stars Rio Ferdinand and Wayne Rooney took to micro-blogging site Twitter to appeal for an end to the violence, which has erupted across several British cities.
"The scenes on Sky news right now are shocking..what is this all in aid of?? Innocent peoples homes + livelihoods have gone up in smoke-why?" Ferdindand tweeted. "It seems these kids/people have no fear or respect for the police....maybe the army will get that respect??
"And I am not saying bring violence, I am saying the presence of the army may make these kids/people think twice about continuing this??"
Rooney added: "These riots are nuts why would people do this to there (sic) own country. Own city. This is embarrassing for our country. Stop please."
Football correspondents at several British newspapers said the England match should be called off.
"England game will and must be called off," The Daily Mirror's football correspondent John Cross wrote on Twitter. "London isn't safe right now."
The Daily Telegraph's chief football writer Henry Winter added: "It's simple. It can't go ahead. Police too stretched."
West Ham, Charlton and Crystal Palace meanwhile confirmed their respective League Cup matches against Aldershot, Reading and Crawley were to be postponed on the advice of police.
British Olympic officials meanwhile expressed confidence that London would be able to host a trouble-free Summer Games next year despite the violence.
"We know the level of work and we know the level of planning that has gone into it," British Olympic Association director of communications Darryl Seibel told Sky Sports News.
"This is not a reflection of London, this is a reflection of the world we live in today."
Police in Birmingham said violence which erupted in the city on Monday would not impact the third Test between England and India, due to get under way at Edgbaston on Wednesday.
England star Kevin Pietersen described the violence in the city as "insane" revealing that the team's city centre hotel doors had been locked as unrest flared throughout the city.
"They have just locked our hotel in Birmingham mate... Riots just started here.. Insane!!" Pietersen said in a Twitter message.
England bowler Tim Bresnan added: "Just seen the rioters in Birmingham fleeing down the main street followed by a load of police in the full get up. What's going on?"
Spinner Graeme Swann chimed in a message late Monday: "Goodnight England. Good luck to those surrounded by the carnage. Be safe."