Ngo Le Bang was appointed the new secretary-general of the Vietnam Football Federation (VFF) at the group's executive board meeting in Hanoi yesterday (Feb 28).
Earlier, three other candidates including Pham Ngoc Vien, VFF vice chairman; Duong Nghiep Khoi, VFF deputy secretary general; and Phan Anh Tu, secretary general of the Hanoi Football Federation, had withdrawn from the race.
Bang will take over from Tran Quoc Tuan, who resigned last December.
Considered to be an extremely polite person who has not tread on anyone's toes, he has also played football in the Quan Khu Thu Do football club and later worked as interpreter at the Russian Consulate in Ho Chi Minh City.
He also worked as assistant to coaches of other football clubs such as Da Nang, Binh Duong, Sai Gon Xuan Thanh and the U.18 national team.
Fifteen out of 17 of the VFF executive board members voted for Bang. VFF chairman Nguyen Trong Hy approved the decision and Bang, currently technical director of the Thai Son Nam Futsal Club, took his new position yesterday.
"I was astonished when nominated for the post of secretary general of the Vietnam Football Federation (VFF) two months ago. With my experience and good contacts, I believe I will do well," said Bang, who used to be a language assistant for foreign coaches at the national football team.
"Vietnamese football is facing changes and difficulties," said Bang. "I think I myself should change to be suitable for my present work. My foreign relations such as those with the Asian Football Confederation and ASEAN Football Federation are good."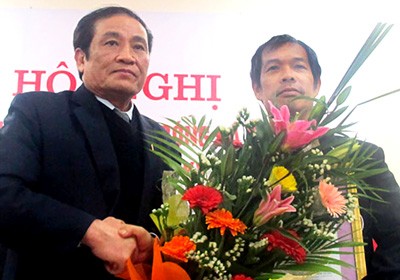 Chairman of the Vietnam Football Federation (VFF) Nguyen Trong Hi offers flower to newly appointed secretary-general Ngo Le Bang (R) (Photo: SGGP)
At the meeting, the National Coach Council decided to postpone until March the voting for the position of head coach of the national team, currently lying vacant.
Nguyen Sy Hien, chairman of the National Coach Council said voting for this position will be announced later as "finding a head coach for the national team is very important and a complicated process, thus we need to have more time to consider it. However, we know we want only a Vietnamese coach," said Hien.
According to the VFF, the salary for the position will be the highest for a Vietnamese head coach at about VND200 million (nearly US$10,000) per month.