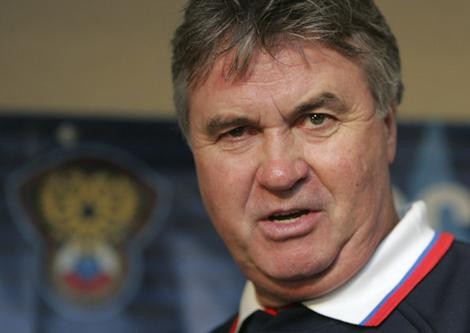 (File) Guss Hiddink
THE HAGUE, Aug 9, 2011 (AFP) - Storied Dutchman Guus Hiddink says he will quit as Turkey coach if it is proven the country's elite leagues have been riddled with corruption as charged, a Dutch press report said Tuesday.
Turkey's football federation decided several weeks ago to delay the start of the new season by a month amid a massive match-fixing investigation.
In July some 30 people were charged and jailed pending trial as part of the probe into match-fixing and bribery in Turkey's first and second divisions.
Hiddink, who famously led South Korea to a fourth place finish in the 2002 World Cup and who has also coached Russia, Chelsea, PSV Eindhoven and a host of top European clubs, said if the allegations were confirmed he would quit.
"If I notice anything untoward, I'm quitting," Hiddink said in an interview with left-leaning De Volkskrant newspaper.
"Football is... a great and beautiful industry which provides employment to a lot of people, but that doesn't mean these kinds of things should be allowed to happen. On the contrary."
Hiddink added he was "astonished by the seriousness" of the investigation, and was glad that, so far, "the investigation has revealed no proof of corruption within the national team".
Turkey, who are third in Group A of qualifying for the 2012 European Championships and 11 points behind leaders Germany, are currently in Istanbul preparing for an upcoming friendly against Estonia.
Hiddink, who took over the post in January 2010, said he has called on his players to set an example.
"At the start of our training camp we spoke about the scandal," he added.
"I've told them in no uncertain terms that it is up to them, as representatives of the country, to show that Turkish football can be beyond reproach."
The Turkish league is now set to kick off on September 9, and a day later in the second division.
The president of reigning champions Fenerbahce, Aziz Yildirim, is the most prominent among the incarcerated suspects, which include also the vice-president and the coach of another Istanbul giant, Besiktas.
The suspects are accused of manipulating 19 games last season, which saw Fenerbahce clinch the title in the last match, outstripping Trabzonspor on goal difference.
The inquiry and arrests have sent shockwaves among fans in football-mad Turkey, amid the prospect of Fenerbahce losing the title.
Last month, Besiktas, the Turkish Cup winners, returned the trophy to the football federation until cleared.