Vietnam will play a friendly match against the Greek side Olympiakos at 7.30pm May 14. Success may be hard to find, with Vietnam's best players unfit to play.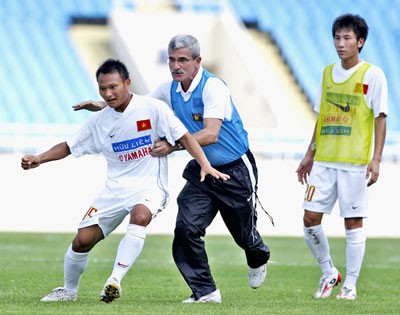 Henrique Calisto (C) with his players exercise on a training day (Photo: SGGP)
Fitness is causing a head-ache for the coach, Henrique Calisto. Most of his best players have received serious injures and will not be able to play. As a result, only five players from this year's successful AFF Cup winning team will be playing.
His midfield line-up will be filled mostly with new faces. The only experienced player available is Tan Tai.
Center-half backs Duy Quang and Thai Duong will replace the injured duo Minh Chau and Tai Em.
Asked about his decision to play Quang and Duong, Calisto said Quang has good technique and Duong has good strength and attitude. Calisto also expected Duong to play as well as Tai Em.
The Ukrainian-born goalkeeper Mykola, now renamed Dinh Hoang La, will steady the team in goal.
The only recent good news for Calisto was Phuoc Tu's recovery from injury and ability to play in the match.
The AFF Cup winning striker combination will remain with Viet Thang and Cong Vinh
Despite Calisto's optimism, local fans have their doubts about the strength of the new formation and Thang and Vinh's ability to get past Olympiakos's keeper Nikopolidis.
The upcoming match may only be a friendly but is seemly a chance for Olympiakos to prove their strength.
Some commentators have said Olympiakos's skills are much better than the Vietnam national side despite bringing an average line-up.