ROME, March 10, 2011 (AFP) - Inter Milan coach Leonardo insisted his team can still challenge on three fronts as they prepare for Friday night's clash away to Brescia.
The game was moved forward a day to give Inter extra time to prepare for Tuesday's Champions League second round, second leg trip to Bayern Munich.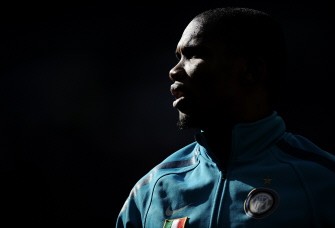 AFP file photo taken on March 6, 2011 shows Inter Milan's Cameroonian forward Samuel Eto'o
Inter, who lost the home leg 1-0 at the San Siro, would join AC Milan and Roma as last 16 casualties if they fail to turn the tie around.
They also trail Milan by five points in the Serie A race, face Milan in the derby later this month and are through to the semi-finals of the Italian Cup.
But even though his side are the only remaining Italian representatives in Europe, Leonardo remains confident.
"We feel we're still in with a chance of going forwards in the Champions League as with the league and I don't think we have an exaggerated responsibility because it's motivating to know that we still have a chance of winning everything," he said.
"Every team begins with the aim of winning every competition and given that fact we have to think about each game at a time while looking to do our best."
Hot-shot Samuel Eto'o, who celebrated his 30th birthday on Thursday, also believes the reigning European and Italian champions are in good shape to repeat last season's treble success.
"Everything is still open in the title race, we'll fight, we want to win," he said.
"Milan are the best at the moment because they're top but we have everything we need to make life difficult for them.
"We'll fight to the end and we hope to match last year's achievements.
"We're a good team and we'll go to Munich to try to win. They won here in the 90th minute so why can't we win there."
Looking ahead to the game against Brescia, Leonardo insisted the nerazzurri won't be taking their opponents lightly.
"Brescia have many resources and it's not by luck that they have had some good results particularly away from home like against Udinese, Roma and Napoli," he said.
"But also at home they've shown good performances, consistency, and good play.
"All this shows you it will be a very difficult game for us, just another difficult game to add to all the others, because easy games don't exist."