BERLIN, March 18, 2011 (AFP) - Struggling Bundesliga club Wolfsburg said Friday they have appointed Felix Magath as their new coach, only two days after he was fired by Schalke.
"VfL Wolfsburg has hired Felix Magath as director of sport and coach. The official presentation will take place on Friday at midday," the club said in a terse statement.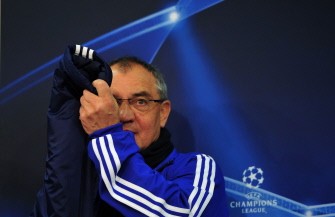 AFP file - Picture taken on November 23, 2010 shows Schalke's head coach Felix Magath taking off his jacket as he arrives for a press conference in Gelsenkirchen, western Germany
Despite reaching the Champions League quarter-finals, Schalke decided to part company with Magath on Wednesday in an acrimonious split following a crisis meeting of the German club's board.
The 57-year-old was fired due to Schalke's disappointing league season, as they find themselves 10th in the Bundesliga, 28 points behind runaway leaders Borussia Dortmund.
Wolfsburg are in an even more precarious position, second from bottom, a precipitous fall from grace for a club that, two seasons ago, shocked the football world by winning the Bundesliga, holding off Bayern Munich.
Magath, their coach at the time, left immediately afterwards.