NEW DELHI, June 7, 2011 (AFP) - Lionel Messi and his Argentina team mates will travel to India later this year to take on Venezuela in a friendly designed to boost football on the subcontinent, a report said Tuesday.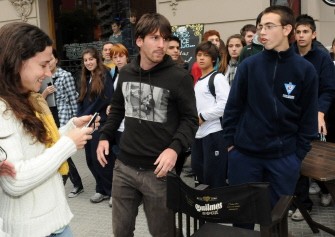 AFP - Lionel Messi is surrounded by high school students as he leaves a restaurant after a football fanatic tried to punch him on the face while he was signing autographs in his native Rosario, Argentina, on June 2, 2011.
The FIFA-sanctioned game is scheduled for September 2 in the eastern city of Kolkata and the Argentinian team will then travel to Bangladesh where they will take on Nigeria, the Press Trust of India (PTI) newsagency reported.
"The Argentina Football Association has indeed signed a contract to bring in the full-strength squad including Messi and Carlos Tevez among others," Bhaskar Goswami of the Celebrity Management Group was quoted as saying by PTI.
"The contract guarantees their participation."
The Argentina squad will arrive in Kolkata on August 30 and will take part in a number of events, including a charity programme and a football clinic for children during a four-day stay.
It was unclear if world player of the year Messi, whose club side Barcelona begin their La Liga title defence the day before, would fly out with his Argentina team mates or join the tour later.
After the Kolkata outing, the Argentine contingent will travel to Dhaka for another friendly against Nigeria on September 6, the report said.
Football is yet to take off in cricket-mad India despite enjoying considerable success in the 1950s and 1960s when they won two Asian Games gold medals.
The size of its population and the associated commercial potential has long seen it regarded as one of the great untapped markets for the sport.
Top European clubs including Bayern Munich have visited India in the past to play exhibition matches in a bid to build on the interest in the game in the country of 1.2 billion people.